Update: Two Confirmed Cases Of Coronavirus In Calaveras County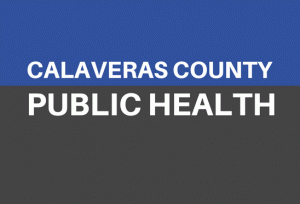 Calaveras Public Health

View Photo
Update at 7 p.m.: Now that there are two confirmed cases of coronavirus, as detailed below, Calaveras County Health officials are looking at other ways the virus could impact the county.  While County Health Officer Dr. Dean divulged that the Murphys Irish Day event is being looked at for possible postponement below. He advises that currently "we're evaluating whether to recommend closure of mass gatherings of large public events in Calaveras County. We'll be issuing more specific recommendations on that in the next 12 to 24 hours." Further details on the two confirmed cases in the county and the closure of the school can be viewed below. The most recent updates are here.
Update at 5:35 p.m.: Regarding mass gatherings in the county, Calaveras County Health Officer Dr. Dean Kelaita says no recommendations are being made by his office, but it is a developing situation.
He adds that there are discussions going on with organizers regarding events like the Murphys Irish Day, which includes the parade, and is less than two weeks away on Saturday, March 21st. He advises, "We're in discussions about the recommendation for suspension of that for this season. We haven't issued that yet.  We're going to consult with the event coordinators and that recommendation will be coming in the next 24 hours as to what to do with that event."
Update at 4:15 p.m.: Calaveras County Health Officer Dr. Dean Kelaita reports that Copperopolis Elementary School is being closed immediately through the rest of the week and weekend for deep cleaning and disinfecting.
Those infected are two members of a family that lives in the Copperopolis area, according to Kelaita. He details that the father's contact at work led to the exposure and his daughter was then infected. Kelaita discloses, "The child did have exposure in the school setting to other children during the time where she was symptomatic." Due to that, Kelaita says the recommendation was made to close the school, which is expected to reopen on Monday, March 16th. He asserts, "Assuming that there is no new case activity between now and then. If we get reports of additional cases in school settings, those recommendations may need to change or expand to other schools."
Kelaita disclosed that the girl had very little contact with others during the time she was contagious. He pointed out that they have done a contact investigation for the child and the sources of any other potential exposures have been identified. He clarifies, "We're not concerned about a large network of exposed persons to the child during the time that the child was ill before being diagnosed. It's the school environment and school setting that's the most concerning to us."
Kelaita adds they are in contact with all county school administrations and they are preparing communication for parents and caregivers. No other schools in the county have been affected, so there are no recommendations for other schools to shut down at this time, states Kelaita. Also, there are discussions regarding the possible suspension of mass gatherings in the county,  but no decision has been yet.
Posted at 3:55 p.m.: San Andreas, CA — Calaveras County Health Officials report that two residents have tested positive for the coronavirus and one is a child.
Calaveras County Health Officer Dr. Dean Kelaita is declaring a public health emergency. Both individuals contracted the virus outside of the county, so this is not community spread. The child is a student at Copperopolis Elementary School, which health officials say they are coordinating with local schools on further actions. The family has remained isolated at home since this investigation began, according to Kelaita.
Additionally, Kelaita relays the department is identifying persons who may have had close personal contact with these individuals, including friends or family members. Close personal contacts identified during this investigation will be quarantined.
"With the discovery of these new cases, we may see additional cases of COVID-19 in the community," said Dr. Dean Kelaita, Calaveras County Health Officer.
As reported below, this morning Kelaita gave an update to the Board of Supervisors regarding COVID-19, relaying that they were still awaiting the test results for two healthcare workers who were exposed to the virus from a person in Northern California several counties away, as earlier reported here. Kelaita also at that time stressed that there were no positive cases in the county.
Calaveras Public Health continues to recommend that the public do the following to protect themselves and others from respiratory illnesses:
Stay home from work or school and limit contact with others if you are sick.
Wash your hands often with soap and water for at least 20 seconds.
Avoid touching your eyes, nose or mouth with unwashed hands.
Avoid close contact with people who are sick.
Clean surfaces that are touched often, like toys and doorknobs.
"We are urging older people and people with serious medical conditions – like heart disease, lung disease, and diabetes – to take extra steps to protect yourself from COVID-19," said Dr. Kelaita. These high-risk groups should:
Stay at home and avoid crowds as much as possible.
Get food brought to your house by friends, family, or neighbors.
Have a plan if you get sick. o Stay in touch with family, friends, and neighbors. o Have a back-up person if your caregiver gets sick.
Kelaita stresses that his department will continue to collaborate with State and Federal partners to monitor for new cases of COVID-19 and provide updates to the public regularly. He adds that testing will continue for those who meet the current testing guidelines.
Information about COVID-19, including symptoms to be aware of, can be found on the Calaveras Public Health website at calaveraspublichealth.com or by calling Calaveras Public Health at (209) 754-6460.
Tori James contributed to this article. News Director BJ Hansen contributed to the below article.
Original post at 1 p.m.: San Andreas, CA — Calaveras County Public Health Officer Dr. Dean Kelaita stressed that no Calaveras County residents have tested positive for COVID-19, but the county is taking many steps in preparation for the possibility of it happening.
Dr. Kelaita and other emergency responders addressed the supervisors at today's board meeting. While most people have had relatively mild symptoms with COVID-19, he stated that the "case fatality rate," or those who have died from COVID-19, is between one and two percent.
"That may not sound very high…but it is a big deal. Because if that level of severity continues it could really challenge the medical care system to take care of those people, because that it is considered a very high case mortality rate."
He said the immediate risk to the public in Calaveras County is currently considered low because there have been no confirmed cases. Local health providers are taking additional steps to prepare for COVID-19, and scenarios are being developed in the event that the need arises to increase the space needed locally to treat patients.
He said there were some Calaveras residents on the Grand Princess Cruise ship that was connected to COVID-19. All were home quarantined and the 14-day window has passed and they are no longer a threat to get COVID-19. Some of those who showed symptoms of coronavirus were tested and they all came back negative. There were also a few healthcare workers that live in the county who may have been exposed to COVID-19 out of the area. They have been tested, and the results should be known soon. They are currently under home quarantine.
Additional Information Authored By the Calaveras County Public Health Department is Below:
Early information from health experts shows that some people are at higher risk of getting very sick from COVID-19 Illness. This includes:
·Older Adults
·People who have serious chronic medical conditions like Heart disease, Diabetes, and Lung Disease.
If COVID-19 happens in Calaveras communities, it could last for a long time.
Depending on how severe it is, Calaveras Public Health recommends the community take action to reduce people's risk of being exposed to COVID-19. These actions can slow the spread and reduce the impact of this disease in Calaveras communities. It is extra important for people at higher risk for serious illness from COVID-19 to take action to reduce your risk of getting sick with the disease. Because COVID-19 is a new virus, there currently is no vaccine to prevent it. It spreads from person-to-person. If you have COVID-19 you may have fever, cough, or shortness of breath.
Health experts are concerned because little is known about this virus and it can cause severe illness and pneumonia in some people. Dr. Kelaita urges people to follow the steps below to be prepared.
Get ready now for COVID-19
-Have supplies on hand
-Call your doctor to ask about extra medicine to have on hand if COVID-19 shows up in your community and you need to stay home.
-Think about using mail-order for medicines.·Have over-the-counter medicines to ease fever and other symptoms.·Have enough items and food on hand to stay home for a period of time.
-Protect yourself from COVID-19·Wash hands often with soap and water.
-Use hand sanitizer with at least 60% alcohol if water is not available.
-Avoid touching your face, nose, and eyes.
-Use a tissue or sleeve to avoid touching public surfaces–doorknobs, handrails, etc.
Take extra steps if COVID-19 is in your community.
-Stay home as much as possible.
-Get food brought to your house by friends, family or neighbors
-Have a plan if you get sick.
-Stay in touch with family, friends, and neighbors.
-Have a back-up person if your caregiver gets sick. Calaveras Public Health will continue to collaborate and coordinate with State and Federal partners to monitor for potential new cases of COVID-19 and provide updates to the public regularly. Information about COVID-19 can be found on the Calaveras Public Health website at calaveraspublichealth.com or by calling CalaverasPublic Health at (209) 754-6460, Monday through Friday, 8 a.m. to 5 p.m.