Update: Crash Halts Traffic On J-59 near HWY 108 Intersection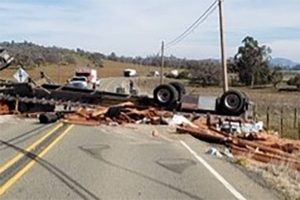 J-59 La Grange Road semi crash

View Photos
Update at 5:35 p.m.: The CHP has called in Tuolumne County Environmental Health officials as about ten gallons of diesel fuel has seeped out on the roadways right side shoulder after a rollover crash on J-59 near Highway 108. Further details regarding the collision can be viewed below.
Update at 3:40 p.m.: The CHP has released the identity of the driver and more details regarding a big rig rollover crash on J-59/La Grange Road in the Keystone area of Tuolumne County. CHP spokesperson officer Steven Machado reports that 23-year-old Jimy Torres-Pineda of Lamont, which is south of Bakersfield, was traveling about 40 mph southbound on J59 when he allowed his 2012 Kenworth three axel truck to go off the roadway, causing it to flip over and spill its lumber load across the roadway.
Machado adds, "Torres-Pineda was able to exit the vehicle and only suffered minor injuries as a result. Traffic for La Grange Road is being detoured on to Red Hills and Green Springs roads. La Grange Road is expected to be closed for several more hours." He indicates it could last through the entire evening commute as a tow crew will be working to clear the debris and upright the semi
Drugs nor alcohol played a role in the crash.
Update at 2:40 p.m.: The CHP has changed the section of J-59 that is closed to traffic after a big rig overturned and spilled the load of wood it was carrying. The span shut down is now between Red Hills and Green Springs roads.
Original post at 2:15 p.m.: Keystone, CA — First responders are on the scene of a big rig rollover crash on J59/La Grange Road in the Keystone area of Tuolumne County.
The CHP reports no other vehicles were involved in the wreck that happened at 1:30 p.m. near the intersection of Highway 108. J-59 is completely blocked as the semi is on its roof and the lumber load it was hauling spilled onto the roadway. Officers are turning around traffic in both directions.
The CHP adds that J-59 will be shut down at both the Red Hills Road and the Highway 108 intersections for several hours for tow crews to upright the semi and clear the debris. However, highway traffic is not being impacted. An ambulance has been called to the scene, but currently, there is no word on injuries.