Same Men Stopped Twice, Arrested For Guns, Meth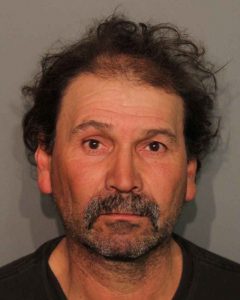 Manuel Salvador Naranjo

View Photos
Angels Camp, CA – Angels Camp police are concerned about two traffic stops they made last week, on consecutive days, involving two separate vehicles and subsequent gun and or drug charges against the same four men.
During the first stop, which happened Friday, shortly after midnight, an officer from the Angels Camp Police Department made a traffic enforcement stop on a vehicle for inoperative brake lights. As the driver provided his identification, which was from Mexico, the officer noticed a firearm inside the vehicle. After detaining the driver and the three other occupants for a vehicle search, police found in total, four loaded, modified semi-automatic weapons, some of which had sawn off stocks or sights removed, according to Angels Camp Police Chief Todd Fordahl. Their explanation, Fordahl said, was they were "looking for deer."
Police arrested the driver, 49-year-old Manuel Salvador Naranjo, a Stockton, CA resident for the charge of carrying a loaded firearm in a vehicle. Also arrested on the charge were the other three men, also Stockton residents. They are 46-year-old Eberardo Juan Munos Romero; 41-year-old Juan Sanchez Morales; and 25-year-old Jesus Emmanuel Arredondo Escalera. Sanchez Morales and Arredondo Escalera both received charges for possession of methamphetamine. All were subsequently, released on their own recognizance, pending future court dates.
Saturday, around 3:50 p.m., police encountered the same four men during a traffic enforcement stop on a different vehicle for a missing a front license plate and other code infractions. On the second stop, an officer noticed a knife in plain view. Fordahl said that, based on the officer's observations and safety concerns due to the previous stop, he searched the vehicle and found another knife and more meth. Subsequently, police again cited Sanchez Morales for possession of the substance and released him on his own recognizance, pending a court date. Police also returned the knives to the men.
"It is not normal to run into people such as these four people, back to back on consecutive days, with two different vehicles," Fordahl said. He added, "Their explanation on the second contact was that they came…to retrieve a cell phone that was up here."
Fordahl shared other sobering details about the incidents. "Some of the other things that weren't mentioned in the press release that were concerning is that there were ski masks and gloves that were recovered as well…I don't know what their intention was. I don't believe based on what was found, the time of day and the type of weapons that they had, their overall circumstances, I do not believe their story that they were up here, 'looking for deer'."
Prior to the passing of Prop 47, Chief Fordahl pointed out that possession of meth was a felony and it would have been possible to hold the men longer, unless they were cited out due to jail space. Fordahl stated that it is becoming more common to see people from out of the area, indicating, through their actions that they might be "up to no good," emboldened by the knowledge that the laws have changed in a way that reduces their chances of being incarcerated on what are now misdemeanors.