Festive Feed Cheers Locals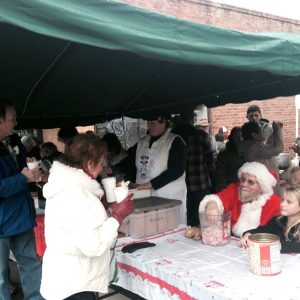 Bean Feed Candy Server Santa

View Photos
Sonora, CA — Even as Friday's threat of rain made good on it, Mutz' Bean Feed, now in its 27th year, came just the same.
As a street orchestra of string playing youths and a sassy group of flash dancers performed, the serving line to the cooks' tent set up just off Washington Street in downtown Sonora backed up the sidewalks for nearly three blocks, past Coffill Park. Waiting, chatting and eating, residents enjoyed the beloved long-running holiday tradition founded by local resident Galen "Mutz" Mutzner. While no one keeps stats on yearly numbers served, Mutz has said that someone estimated more than 700 folks served in one recent year.
Among the volunteer servers, Connie Birdsall of Sonora, says she has been spooning up beans for "only about four years." As folks file in and head down the line for their share of the free feast of cold weather comfort foods, she describes the drill to them. "This is menudo, it's a Mexican soup, made with tripe, and we have fresh bean soup back here, French [garlic] bread, we have tortillas and quesadillas, popcorn, and Santa Claus will give you some candy canes."
It is Year 17 of menudo on the menu, prepared by the Andrada family. It was a specialty of patriarch Gil Andrada, a long-time friend of Mutz. Matriarch Cissie says, "My husband did it for 15 [years] before he passed away." She laughs, "He was the Menudo King, and now I am the Menudo Queen, passing the torch to the next generation."
Cissie's daughter, Geneva Andrada, of Sacramento and her cousins from Fresno came in to help head up this year's operation. Gratified that Mutz' tradition has become part of her family's, she says it is a way for her to honor her father's memory. And so, beginning at 5:30 a.m., the next generation of menudo makers prepped and simmered their recipe, using roughly 50 pounds of tripe, hominy, onions, sauces and other flavorings and garnishes.
"It's kind of strange looking, kind of curious," Geneva says, with a laugh. "More and more of the people are getting used to the menudo. A lot of people who've had it, have never heard of it before. They kind of get the word that it's, you know, good stuff, and so they go for it."
As folks continue to feed and visit, 4-year-old Katelin K., wanders through the tent. Her menu favorite? "Popcorn," she says, with a giggle, adding, "Happy Holidays!"