Don Pedro And Others Weigh In On Drought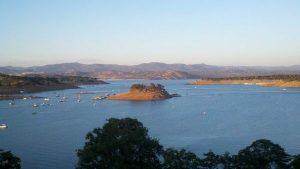 Lake Don Pedro

View Photos
Sonora, CA – In today's meeting, the Tuolumne County Board of Supervisors voted to extend emergency drought measures and also learned that it would be receiving an intake of updates in its first meeting of 2015, on the needs and most pressing concerns of the county's larger water systems as well as the smaller ones who are experiencing issues.
That, according to the county's Department of Emergency Services Coordinator Tracie Riggs, who reported findings from last week's county drought task force meeting. She stated that, while some of the smaller water systems on wells are doing well, the county is working with up to 80 homes that are without water to provide both temporary assistance and long-term solutions.
"There are many more applications," Riggs said, "We're still gaining information…to see how to prioritize them." Currently, Riggs reports that the county is working with Tuolumne Utilities District (T.U.D.) and the state Water Resources Control Board Drinking Water Program to connect 23 homes to T.U.D. water on a permanent basis.
Pete Kampa, the general manager for Lake Don Pedro Community Services District reported that dwindling surface water in the reservoir has brought the levels below the 710-foot minimum level where the system's regular pumps cannot function and a float pump is required. The fix, he explained, is not only cumbersome, expensive and not as reliable as the system pumps, but that it also sends 440 volts over the water as it operates.
A Short Planning Window For Don Pedro
"We continue to lose a quarter to a half a foot a day during drought periods when inflow slows down," Kampa said. On predicting water supplies for the months ahead, Kampa said, "By the end of March, if we don't have a number of days of rain like we're having…the resource will be empty. So, we have a short planning window."
Last week, the Lake Don Pedro Community District Board met and voted to adopt a 30 percent mandatory water restriction on residential usage, creating baselines, based on gallons per capita day usage. Kampa stated, "The community hasn't had it before – if we have it — that will get us through until we have snow melt."
The district is also actively working to secure the water supply down to the 560-foot water elevation and plans to lay more pipe and cable to the 500-foot level to protect now-open infrastructure. Kampa said that the drilling of two wells, slated for its Phase Two development plan have been moved into the current work scope.
"If the lake goes dry in March, the wells will help meet the demand through when people will start to want to irrigate," Kampa explained. "So, we have six months. If we end up with an empty reservoir, we will stop outside irrigation."
Addressing Future Needs 
According to Kampa, the district currently serves 1,450 active connections and there are 3,300 lots. He stated, "One of the biggest problems is that we have three different development projects that are prepared to submit to the county, in and around the service area, that we really can't [currently] service."
Kampa explained that the "last and most long-term project" would be to get the reservoir off the existing intake. "As you know with Pinecrest, that this lake used to operate between 810 and 710 feet and was very full all the time," Kampa said. "Now, with in-stream flow requirement, and everything else, it's not unusual for it to drop down to below where our pumps are in a normal operating cycle with just a little bit of a drought."
The district hopes to install a deep-water intake at McClure Point, about four miles away, which may cost up to $10 million, Kampa said.  "If that doesn't work, we'll extend pumps in the existing location another 100 feet to get us down to 600 feet."
In discussing current state requirements for in-stream flow, the supervisors commented that they should "push back" in 2015, legislatively, after Kampa noted for 2014, a period of one year, the amount of in-stream flow release from the reservoir equaled the current consumption of the Lake Pedro community for 350 years. Kampa said, "Think about that…just one year's worth of releases — in a drought year!"