House On Fire Southwest of Sonora High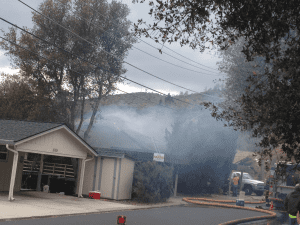 Alpine Lane Fire in Sonora

View Photos
Sonora, CA — Fire crews are on the scene of a structure fire in Sonora.
The call went out around 12:20 this afternoon.  Cal Fire confirms firefighters are battling a working house fire on 370 block of Alpine Land near Calaveras Way, just southwest of Sonora High School. There is no word on whether anyone was home at the time of the fire or whether it is threatening any nearby homes or vegetation.
Update, 12:50 p.m.: Cal Fire  says it the house is a duplex and firefighters are doing what is called a "standard tack and search," but could not yet confirm if there is anyone in the structure.
Update.12:54 p.m.:  Sonora Fire Chief Mike Noonan says there were people in the duplex when the fire started but there were no injuries. The fire started on one side and spread to the other side of the duplex.
Update: 1:08 p.m.: With visible smoke and flames coming from the rooftop, City of Sonora Fire Chief Mike Noonan says the house is not being considered a total loss at this time.
[mapsmarker marker="303″]