Boot Fire Summary Timeline
On September 4 in the Humboldt-Toiyabe National Forest a fire ignited from an unknown cause and burned 6,974 acres (10.89 sq mi, 28.2 sq km) of timber and brush. The Boot Fire was considered fully contained on September 17. It began four miles north of the Highway 108 Sonora Junction and closed parts of Highway 395 and Highway 108. All residences in the area and the Marine Corps Mountain Warfare Training Center were protected from the Boot Fire.
Sep 4: Humboldt-Toiyabe National forest spokesperson Neiman Horn confirms that the blaze, given the name the Boot Fire, broke out around 2:30 this afternoon about 20 miles north of Bridgeport off 395 and that it is estimated to be about 150 acres in size. Highway 395 is now closed at the Highway 108 junction to the southern end of Walker. He says it is unknown if any structures are under threat at this time or the rate of spread. The cause remains under investigation.
He adds that five engines and two helicopters are working on the incident and two hand crews, plus an air tanker and air attack were en route.
The CHP are manning the closure, which is expected to remain in effect at least until tomorrow morning.
The Donnell Fire was at 36,349 acres, and 85 percent containment having burned for 34 days as detailed here.
Sep 5: 1,200 acres to 3,000 acres, evacuations in place for the Bootleg, Chris Flat and Sonora Bridge campgrounds. Highway 395 remains closed in both directions from Highway 108 to Coleville. Structures are threatened east of Walker Canyon. The fire is being fought by a type 3 incident management team, but a larger type 2 team has been ordered.
3:50 p.m.: The Mono County Sheriff's Office ordered Leavitt Meadows Pack Station and Campground, and the Marine Corps Mountain Warfare Training Center to evacuate.
4:15 p.m.: Residents and campers from the Sonora Pass area spanning nearly four miles south to include the community of Devil's Gate are being evacuated. Additionally, ranchers are being asked to be prepared to move livestock out of the area south of Highways 395 and 108 in the event evacuations are necessary. The section of roadway closed on Highway 108 from Highway 395 has been expanded from the Tuolumne County line to Kennedy Meadows Road.
Sep 6: 4,620 acres to 6,706 acres or almost 10.5 square miles.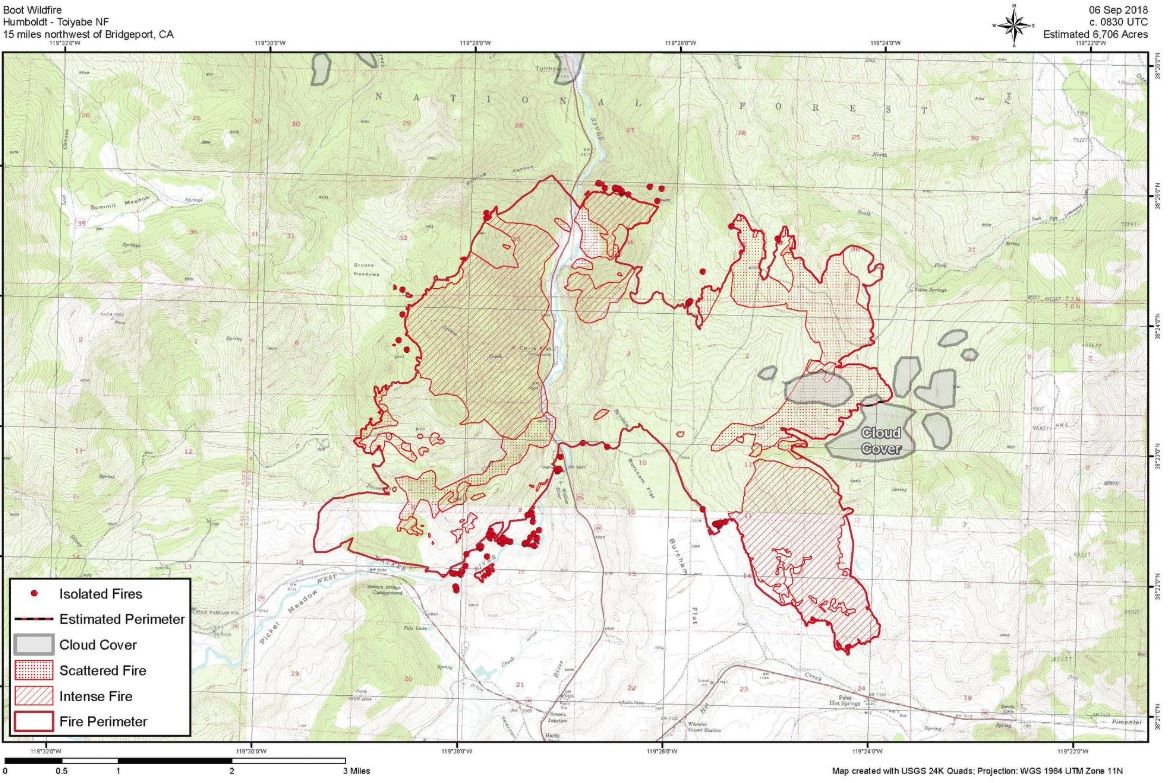 Sep 7: 6,873 acres and it is back to zero containment.

Sep 8: Citing public health and safety, forest service official from the Humboldt-Toiyabe National Forest have issued a closure order within and around the burned area on the Bridgeport Ranger District. Detailed information about the fire here.

Sep 10: 52-percent contained and 6,921 acres.
Sep 12: Grows an estimated 53 acres to 6,974. Containment 76-percent. Fire officials attribute that jump to hose lays and other water delivery systems that are being using to complete containment and repair work.

Sep 14: Boot Fire Nearly Fully Contained

Sep 17: 100 percent containment.