Leland High Sierra Snowplay (Leland Meadows)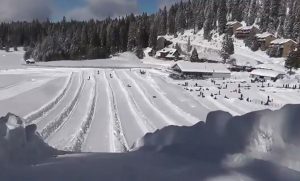 Leland Meadows is 12 acres of well groomed snowy hills at 6,300 feet. It is dubbed the largest snowplay only facility on the West Coast. Leland Meadows is 39 miles east of Sonora on Highway 108.
Snowcats groom the snow and two rope tows get guests up to the top of the big Snowplay hill. For kids and adults that are under 44 inches tall and not quite ready for the big hills, newly opened in 2017 the "Magic Carpet" Lift System, similar to the Lifts on the Bigger Hills, will gently wisk children off all ages to the top of the Kiddle Hills.
The 4,000 sq ft lodge provides the basics: a snack bar, video games, pool tables, a warm fire, and a sun deck with plenty of tables and chairs overlooking the snow play area outside.
Open weekends until December 16th and then open seven days a week during Christmas Break. When there is enough snow Leland Meadows Snow Play open weekends and sometimes other days except Wednesday thru April.
Lift tickets vary from $19 to $39. For rentals and other costs: visit their web site.
Family owned and operated since 1990
Near the town of Ione in Amador county is a 400-acre lake, with 13 1/2 miles of shoreline and the most amazing fishing! For over 30 years, the Lockhart Family has been in the process of developing "the finest fishing resort in the Western United States." A short visit to the lake to enjoy the day use area is $9 per vehicle for two people if there are more its an additional $1.Stay a while longer to enjoy the campground where you will be surrounded by mighty oak trees, with plenty of privacy and great views.Explore the lake in your own boat or rent one at the marina, there are no speed limits, just no water skiing or personal watercraft allowed.
For other lodging, restaurants or fishing supplies find everything you need in our yellow pages.

Lake Amador Resort was created by the Lockhart Family in 1973. They have expanded from 12 campsites to 150, with showers and flush toilets. There are also 73 lakeside full RV hook-ups and a swimming pond with a waterslide. For more visit heir website lakeamador.com

Fishing here is a big draw, Amador Lake especially, contains giant Donaldson-strain cutbow salmonids. Fish 24 hours a day 7 days a week, all year round. The Lockhart family at Amador Fish Hatchery stock the lake with that more than 50 years of research to producing a fish, that is 30 percent steelhead, 50 percent rainbow and 20 percent cutthroat. They are hard fighting, surface-dwelling, acrobatic and they taste good too!Besides trout, Lake Amador held the Largemouth Bass record for Northern California for over 10 years at 17.1 lbs. Other trophy fish including catfish up to 40 pounds are caught in the summer. Surely the fish population will provide you with hours of exciting fishing entertainment. Enjoy the peaceful adventure on the 400-acre, 13 1/2 miles of beautiful shoreline and return often.Lake Amador now has an expanded launch ramp with new docks and a paved parking area. The parking area is now lighted at night for those nocturnal fishing adventures. No Jet Ski's or Water Skiing allowed.
For more information, you can call (209) 274-4739
Lake Amador Fish: Trout, Largemouth Bass, Catfish, Crappie, Bluegill
If you want to stay in the Mother Lode take a look our list of places to stay.
Planning a wedding, conference or other event? Take a look our list of places to host your event.
Tell us about your experience at this place! Contact Us