Yosemite Ski & Snowboard Area (Badger Pass)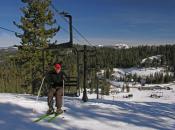 California's oldest wintersports area is a wonderful place for families and for learning how to ski. Located in Yosemite National Park, most of Yoesmite's slopes are devoted to beginner and intermediate level skiers.
This ski resort is at an elevation between 7,200 feet and 8,000 feet. The park offers almost 350 miles of skiable trails and roads. There is a wonderfully scenic 21-mile round trip cross-country track and skating lanes that are groomed from Badger Pass to Glacier Point. Three-kilometer track is also groomed to the scenic Old Badger Summit or enjoy the other 90 serene miles of marked cross-country trails that begin at Badger Pass.
Yosemite Ski & Snowboard Area Facts
Open daily from 9:00 a.m. to 4:30 p.m., mid December through early April, weather permitting.
Apline Runs: 3 beginner, 5 intermediate, 2 advanced
5 lifts (1 triple-chair, 3 double-chair, 1 cable tow)
In addition to areas around Yosemite Ski & Snowboard Area, marked winter trails are available at Crane Flat, in Yosemite's backcountry and among the Giant Sequoias of the Mariposa Grove. Tuolumne Meadows is also a popular destination for skilled wilderness skiers. Nordic skiing in these areas will inspire the feeling that you are at the top of world in near-total solitude. Overnight in well- appointed wilderness huts as you cross from ridge to ridge, traversing the vast expanse of parkland.
Cautions
Whether your ski of snow-shoe the temperature ranges from 30 to 60 degrees. All overnight users are required to register for overnight parking at the Badger Ranger Station. They advise to dress in layers of synthetic clothing (polypropylene, Fleece, Gore-Tex, etc.) for warmth and be sure to bring along plenty of water and high-energy foods, as wintertime weather can be brutal. Be prepared for sudden storms. If you are not familiar with assessing avalanche conditions stay on the marked trails at the ski area, Crane Flat and the Mariposa Grove.
You can also take the kids snow tubing at Yosemite. It is designed for younger kids who want the excitement of sliding over snow, but kids of all ages are encouraged to join in.
For current conditions information, check our Daily Snow Report listing for Yosemite Ski & Snowboard Area.
For rentals and other costs visit the web site.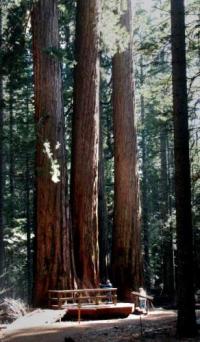 Big Trees is at an elevation of 4,800 with easy access just off Highway 4. Summer is the best time to visit with temperatures as high as 80 but lows are in the 50's. In spring and fall it occasionally rains, thunderstorms or snow showers are likely. Fall is usually dry with extremely high fire hazard danger. In winter there is often snow the roadway beyond the North Grove that leads to the Stanislaus River. The South Grove is closed from approximately mid-November to mid-April. The North grove area is open and sometimes suitable for cross-country skiing.
Calaveras Big Trees became a State Park in 1931 to preserve giant sequoias noted by Augustus T. Dowd in 1852. A tree named the 'Discovery Tree' was felled in 1853 leaving a giant stump that measured 24 feet (7.3 m) in diameter at its base and by tree ring count was over 1,000 years old. A plaque at the site explains that pieces of the Discovery Tree were displayed in New York and other cities to promote the location, but many people were outraged the tree was cut down. The entire promotion was considered a failure. Later, the stump was used as a dance floor and then a pavilion, bowling alley, and a bar.
See all the beautiful Wildflowers of Calaveras Big Trees State Park at this website. For more about the towns near Big Trees visit the Avery webpage in the Community Guide.

Big trees has two campgrounds, the North and South Grove, with a total of 129 campsites. For reservations go to recreation.gov six months in advance.

Calaveras Big Trees / South Loop Mountain Bike TrailTake Memorial Parkway to the end past Beaver Creek Picnic Area. A fire road starts on other side of the gate. Stay right on road until your past the bridge. Then go right at first crossing, right at second crossing, and left at the second crossing. Then just stay left for the loop, very, very rustic, no tracks, nothing for 100 miles south of you.

The five mile hiking trip through a spectacular grove of giant sequoias is highly recommended and amazing to take in. Plenty of photo opportunities but remember to stay on the trails. The trails include the moderately difficult Lava Bluff 2.5 mile trail and the gentle well marked 1.5 mile Bradley Trail.South Grove Trails depending on your route, may take you on a 3.5 to 5 mile hike. The first 1.5 miles of trail you a gain of 260 feet in elevation. The loop trail is just over a mile and passes the lower part of the grove.
Halfway around the loop, you will find a 1/2 mile side trail leading to the upper grove and the largest tree in the park—the Agassiz Tree.Garbage cans and restrooms are available at the parking lot only, and be sure to carry water with you.
If you want to stay in the Mother Lode take a look our list of places to stay.
Planning a wedding, conference or other event? Take a look our list of places to host your event.
Tell us about your experience at this place! Contact Us