Places to Ski in the Mother Lode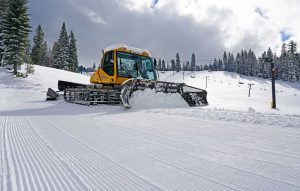 The Sierra, with its high peaks and heavy snowfall, offers plenty of opportunities for skiing enthusiasts. Average snowfall for wintertime in Calaveras and Tuolumne county ski resorts is around 400 to 450 inches for the entire season. That makes for a great base for snowboarding, downhill, and cross-country skiing. Here we keep track of all 24 California ski resorts but we prefer the pure fun of skiing in the Sierra Nevada Mountains!
There are three places to ski right here in the Mother Lode. The ski season starts mid-December (unless an early hoped for storm arrives in late November) and generally lasts in to March. If you need some equipment several places in the Mother Lode are here to get you all set for the mountain snow.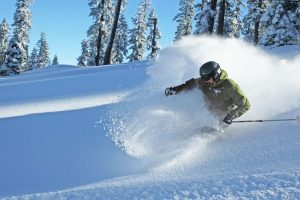 California's oldest winter sports area is a wonderful place for families and for learning how to ski. Located in Yosemite National Park, most of Yosemite's slopes are devoted to beginner and intermediate level skiers.
This ski resort is at an elevation between 7,200 feet and 8,000 feet. The park offers almost 350 miles of skiable trails and roads. There is a wonderfully scenic 21-mile round trip cross-country track and skating lanes that are groomed from Badger Pass to Glacier Point. The three-kilometer track is also groomed to the scenic Old Badger Summit or enjoy the other 90 serene miles of marked cross-country trails that begin at Badger Pass.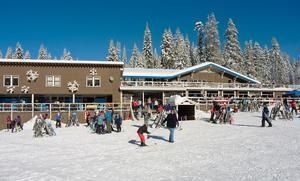 Yosemite Ski & Snowboard Area Facts
Open daily from 9:00 a.m. to 4:30 p.m., mid December through early April, weather permitting.
Apline Runs: 3 beginner, 5 intermediate, 2 advanced
5 lifts (1 triple-chair, 3 double-chair, 1 cable tow)
In addition to areas around Yosemite Ski & Snowboard Area, marked winter trails are available at Crane Flat, in Yosemite's backcountry and among the Giant Sequoias of the Mariposa Grove. Tuolumne Meadows is also a popular destination for skilled wilderness skiers. Nordic skiing in these areas will inspire the feeling that you are at the top of world in near-total solitude. Overnight in well- appointed wilderness huts as you cross from ridge to ridge, traversing the vast expanse of parkland.
Cautions
Whether your ski of snow-shoe the temperature ranges from 30 to 60 degrees. All overnight users are required to register for overnight parking at the Badger Ranger Station. They advise to dress in layers of synthetic clothing (polypropylene, Fleece, Gore-Tex, etc.) for warmth and be sure to bring along plenty of water and high-energy foods, as wintertime weather can be brutal. Be prepared for sudden storms. If you are not familiar with assessing avalanche conditions stay on the marked trails at the ski area, Crane Flat and the Mariposa Grove.
You can also take the kids snow tubing at Yosemite. It is designed for younger kids who want the excitement of sliding over snow, but kids of all ages are encouraged to join in.
For current conditions information, check our Daily Snow Report listing for Yosemite Ski & Snowboard Area.
For rentals and other costs visit the web site.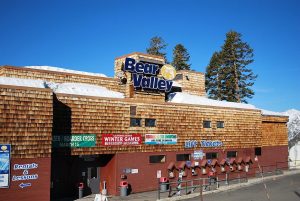 Conveniently located on National Scenic Byway Highway 4 in the central Sierra Nevada mountain range of California, Bear Valley Mountain is the premier year-round family skiing and boarding location. The area boasts 1,280 acres of varied terrain, more than 67 runs, 2 terrain parks, 1,900 vertical feet, and 30 feet of average annual snowfall.
The new terrain park on Westworld is geared toward intermediate to advanced riders and a new beginner progression park will be added near the base of the mountain.
Bear Valley's new Back-country Snowcat Tours will transport a select few to untouched terrain. This program is for advanced and expert skiers and riders only! The "Bear Tracker" will also shuttle guests to mountain activities like Easter Sunday services atop Koala.
Bear Valley Facts
Open daily 9:00 – 4pm Weekend hours 8:30 – 4pm
67 trails: 17 beginner, 27 intermediate, 23 advanced
10 lifts (1 high-speed quad, 2 triple chairs, 6 double chairs, 1 carpet lift)
The Snow-Play program for 3-6 year olds introduces kids to the fun of snow sports in a safe and active environment. Program leaders keep the kids busy both in the playroom and outdoors in a private area on the snow where they get to experience the excitement of playing in the snow while being gently introduced to ski equipment, safety and having fun with kids their own age. Half-day and all-day options available. More information is available at bearvalley.com or call (209) 753-2301.
For current conditions information, check our Daily Snow Report listing for Bear Valley.
For rentals and other costs: visit their web site.
History
According to information from the Ebbetts Pass Historical Association, Bruce Orvis (1927-2010) acquired 400 acres of Forest Service land in 1963 through a land exchange to start a winter sports complex. Orvis put together a ski package for Mt. Reba under a Forest Service permit, and helped convince the state to extend Highway 4 so that there is access to Bear Valley.
The Bear Valley Lodge and other amenities were built in the mid-sixties, and in the winter of 1967, the ski resort fired up its lifts for the first time. By 1968 there were 125 winter-summer homes and thousands of skiers were visiting on the weekends.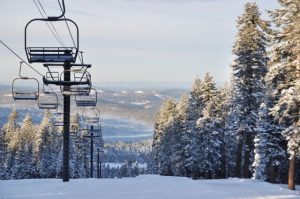 Located in Pinecrest just 30 miles east of Sonora up Highway 108. The elevation is 8,200 feet and 6,600 feet at the base area, offering a 1,600 foot vertical drop. Dodge Ridge is by far the closest, most accessible, family-friendly winter sports area to the Central Valley and Bay Area.
The resort received over 223 inches of snowfall in the 2020-21 season, or just under 20 feet. The season kicked off on December 21 after a big storm system arrived ahead of the Christmas holiday. The last week of January nine feet of new snow fell and additional snow fell in February and March, with cooler than average temperatures. There was an uptick in new guests from the Bay Area and Central Valley.
Dodge Ridge Facts
Open daily
60 trails: 12 beginner, 24 intermediate, and 24 expert
11 lifts (one fixed grip quad, two triples, five doubles, a carpet conveyor, and two surface lifts)
Children's lessons are available in the Snow sports Center for 3-5 year olds or visit the Family Lodge and take them upstairs for a day of fun with the Preschool Snow-play Program.
For current conditions information, check our Daily Snow Report listing for Dodge Ridge.
For rentals and other costs: visit their web site or call (209) 965-3474.
History
The Helm family has owned and operated Dodge Ridge for the last 36 years of the resort's 61 year history. Seven Chairlifts were built in 1985 and chair 8 in 1998, which subsequently tripled the ski-able acreage available to Dodge Ridge skiers and riders.
In 2007 a $6 million base area expansion included the addition of the 16,000 sq. ft. Family Lodge. The most recent expansion is the doppelmayar T-Bar in the summer of 2011. T-Bar 643 gains access to the second summit, doubling the length of the shots.
Future expansions to Dodge Ridge include a complete chairlift infrastructure upgrade with the addition of the second summit chairlift and a high speed detachable lift connecting the lower mountain to the summit with a vertical rise of over 1,400 ft.
Leland Meadows is 12 acres of well-groomed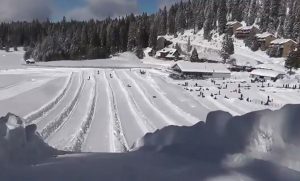 snowy hills at 6,300 feet. It is dubbed the largest snowplay only facility on the West Coast. Leland Meadows is 39 miles east of Sonora on Highway 108.
Snowcats groom the snow and two rope tows get guests up to the top of the big Snowplay hill. For kids and adults that are under 44 inches tall and not quite ready for the big hills, newly opened in 2017 the "Magic Carpet" Lift System, similar to the Lifts on the Bigger Hills, will gently wisk children off all ages to the top of the Kiddle Hills.
The 4,000 sq ft lodge provides the basics: a snack bar, video games, pool tables, a warm fire, and a sun deck with plenty of tables and chairs overlooking the snow play area outside.
Open weekends until December 16th and then open seven days a week during Christmas Break. When there is enough snow Leland Meadows Snow Play open weekends and sometimes other days except Wednesday thru April.
Lift tickets vary from $19 to $39. For rentals and other costs: visit their web site.
Family owned and operated since 1990
Columbia's Ice Skating is open in the winter season Wednesdays through Sundays with four daily skating sessions of 90 minutes each for $12.00 including skates. Wednesdays are half-price! For reservations and information go to www.columbiaiceskatingpark.com. All proceeds go to fund Columbia Chamber of Commerce's Winterfest and other events.
Long Barn Ice Skating has been a family favorite in the Mother Lode for years. The Long barn skating rink has vending machines and a few arcade games. The small Zamboni grooms the ice every few hours. Hot Chocolate is available and welcome on a break from circling around the arena.
If you want to stay in the Mother Lode take a look our list of places to stay.
Planning a wedding, conference or other event? Take a look our list of places to host your event.
Tell us about your experience at this place! Contact Us