Things You Can Do From Home On MyMotherLode
First, if you aren't listening to your local radio stations then you are missing a dynamic connection with the community. Our stations are: Today's Country 93.5 KKBN, Star 92.7 and News Talk radio at AM 1450 and FM 102.7 KVML
We welcome the community to step away from the clutter of social media sites and support this local community news website as we continue to serve the public as a hub of local information.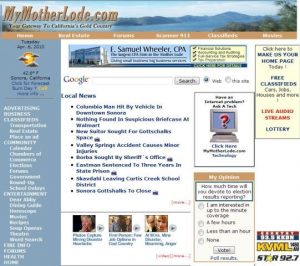 Browse our local news archive going all the way back to February 2001 here, the motherlode has been through a lot. My year Top News Stories of the year blogs can be accessed from the bottom of last year's 2019 year in review blog here. Stay informed but not overwhelmed with our national, sports and world news, or follow the stock market in our
money section here. We also offer Science and Technology News here.
In the more section, we offer an archive of several audio programs here. Now is a great time to catch up on past Mother Lode Views, a 30-minute program created by the KVML newsroom discussing 'hot topics' in the Mother Lode. Guests interviewed include local representatives of Calfire, School Superintendents, County Supervisors and many other officials involved in projects and activities in the Mother Lode.
The more section also has Webcams, when in session the Board of Supervisors meetings and our Police and Fire Scanner here.
Coupons, save some money on essentials with our Coupons here, my blog about how to use our coupons is here.
Our Health section in under the Community category here or keyword: Health. This article on Safe Food Handling (at home) has great information. We also have a Mental Health and Suicide Prevention page here.
Entertainment There is a whole bunch of exciting things available under Entertainment, unwind with some games and support us too, here in our entertainment game section.
Use Our Classifieds!
Musicians, artists, video creators and retailers use our classifieds to promote your skills, services, art and more.
Merchandise is for nearly anything, from new and used equipment to collectible memorabilia and everything in between. In the community section share volunteer opportunities, services and other opportunities, good news and helpful information. The animal section is for lost pets and animal-related items and services. Don't let valuable information get lost on social media.
Details on how to create a classified advertisement are here. Pricing details are here. Small for-profit events including a hosted open house, sales events, concerts, classes and more can be promoted through our classifieds to display with our community event listings in our event calendar for 30 days. For an example and more details on how, see our promotional event listing here.
For more advertising options on MyMotherLode.com, Today's Country 93.5 KKBN, Star 92.7 or on AM 1450 and FM 102.7 KVML call (209) 533-1450 x24
Real Estate
Consider our local real estate section. Browser listings from home without signing up or being tracked. Local homes in the million-dollar range are interesting to review here as are 280 listings of undeveloped land for sale. Share what you find with others.
Realtors, our real estate section is as popular as ever, consider contacting us at 533-1450×14 to learn about sponsoring the real estate section. You can also set up a promotional event as detailed here.
Recipes
Try some new recipes! We have an archive of delicious recipes including our two most popular recipes of recently Ocean Perch Fillets Baked En Pappilote and Salt Broiled Wild Trout (Shioyaki) with Ponzu Sauce here. The most popular recipes in the past 8 months include Tater Tot Casserole and Chorizo Con Huevos Y Nopalitos (Eggs With Chorizo Sausage And Edible Cactus) here.
Other fun reading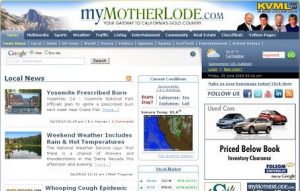 Support local causes by giving to the Sonora Area Foundation. Darrell Slocum's blogs here detail the importance and good they continue to do for Tuolumne County. Their office is close to the public, Board meeting on the 3/24/20 will be virtual.
You can still make a contribution to any fund at Sonora Area Foundation (full list here)
You can still request a grant
We are still making grants to our community
My Back to Basics blog from 2011 here is just as relevant now.
Our community, recreation, destination and fire section pages could use updates. Send original writing by you between 150 minimum words and 500 maximum through our feedback form here and we will review and post/append/update with author credit and our grateful thanks. Together we can do more to inform and promote our beautiful area and wonderful towns to help us all benefit when the tourists do come back.
We are here, in the mother lode just like all of you to help each other out. I have worked for Clarke Broadcasting in Sonora for over eleven years and welcome feedback about site through our form here. For general help view this page here.