Pricing
Premium Audience
Flexible Programs
Affordable Advertising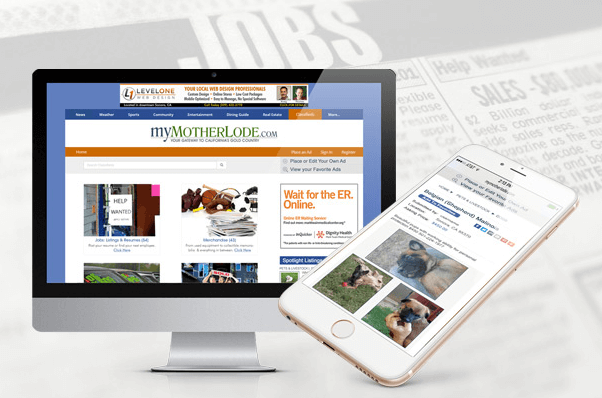 Classified offers packages to fit your needs, from advertising your garage sale or hiring talent, we can help you get the job done.
For conventional, proven, diverse marketing campaigns, take advantage of the power of customized marketing in partnership with KVML, KKBN, and KZSQ radio plus myMotherLode.com. Call us at (209) 533-1450 x24 for more about what we offer here.
Below is a list of the packages myMotherLode.com classifieds offer. Most ads post immediately (you may need to wait 5-10 minutes for your browser to update)
Free Ads
Merchandise: Free for 5 days
Garage, Estate and Yard Sales: Free for 7 days
Community Listings: Free for 5 days
(all ads have one free image)
Paid Ads
Jobs Listings and Recruitment: $10 for 10 days or Extended Package $15 for 30 days
Garage Sale: $10 to be Featured, and $20 to be Spotlighted, Extended Package $15 for 30 days.
Real Estate Rental & Sale $10 for 10 days, Premium $15 for 30 days
Pets and Animals: $10 for 10 days, Extended Package $15 for 30 days
Autos: $15 for 30 days or Extended $25 for 90 days
Promotional Event Listings (featured on the home page and in our event calendar) $50 for 30 days, ad delayed until moderated (contact us if you want less than 30 days)
More Enhancements For All Ads
Photos – $1 for each photo after the first one
Call attention to your ad by making it Featured within a classifieds section – $15
Spotlight on MyMotherLode's homepage and the Classifieds' home page – $25
Forms of payment we accept: Visa, MasterCard, and Discover Card.