Mental Health and Suicide Prevention
We all experience different levels of mental health throughout our lives. Pain isn't always obvious but you can learn to recognize the signs and how and where to reach out if you or someone you know is thinking about suicide. Knowing the signs especially among those who are at a higher risk.
Crisis Hotline available through Tuolumne County Behavioral Health Department, 24 hours a day, 7 days a week. Local phone number is (209) 533-7000 or 1-800-630-1130, available to anyone in suicidal crisis, anyone concerned with someone in suicidal crisis, and/or anyone seeking emergency mental health services. The call is free and confidential.
Are you thinking about hurting yourself or running away?
Suicide Prevention 24 hour crisis line 533-7000
California Youth Crisis Hotline 800-843-5200
Mental Health 24 hour crisis line 533-4357
Runaway Hotline 800-Runaway
National Suicide Hotline 800-273-TALK
For anyone over 55 years old: The Friendship Line: (800) 971-0016
Girls and Boys Town Hotline call with any problem any time 800-448-3000
Are you in danger and need help?
Call 911 or Sonora Police Department 532-8141
Tuolumne County Sheriff's Department 533-5815
Report a Crime Hotline 984-1911
Poison Control 800-222-1222
Foster Care Assistance 877-846-1602
Center For A Non Violent Community 533-3401
24 Hour Crisis Line 800-454-4766
Child Welfare Services 533-5717
Tuolumne County Behavioral Health Department at 105 Hospital Road Sonora 95370
Appointments & Admin (209) 533-6245
24 hour crisis line part of the Crisis Assessment and Intervention Program (CAIP)
(209) 533-7000 or (800) 630-1130—toll free
Mission: to provide respectful, culturally sensitive and strength based behavioral health services which provide wellness, self-sufficiency and recovery from mental illness and/or addiction.
Know the Signs, Find the words, Reach out
Crisis Hotline: Tuolumne County Behavioral Health Department 24/7, free , confidential and local: (209) 533-7000 or (800) 630-1130 – toll free
If you or someone you know is in crisis, please call the National Suicide Prevention Lifeline at 1-800-273-TALK (8255).
Si usted o alguien que usted conoce esta en una crisis por favor llame a la Red para la Prevención del Suicidio al 1-888-628-9454.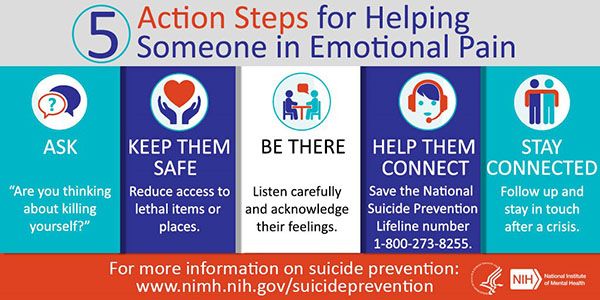 ASK: "Are you thinking about killing yourself?" It's not an easy question, but studies show that asking at-risk individuals if they are suicidal does not increase suicides or suicidal thoughts.
KEEP THEM SAFE: Reducing a suicidal person's access to highly lethal items or places is an important part of suicide prevention. While this is not always easy, asking if the at-risk person has a plan and removing or disabling the lethal means can make a difference.
BE THERE: Listen carefully and learn what the individual is thinking and feeling. Research suggests acknowledging and talking about suicide may reduce rather than increase suicidal thoughts.
HELP THEM CONNECT: Save the National Suicide Prevention Lifeline's (1-800-273-TALK (8255)) and the Crisis Text Line's number (741741) in your phone, so it's there when you need it. You can also help make a connection with a trusted individual like a family member, friend, spiritual advisor, or mental health professional.
STAY CONNECTED: Staying in touch after a crisis or after being discharged from care can make a difference. Studies have shown the number of suicide deaths goes down when someone follows up with the at-risk person.
California "Each Mind Matters" Suicide Prevention Activity Tip Sheet
COMMUNITY SUBSTANCE ABUSE & RECOVERY RESOURCES
Sonora Alano Club: (209) 532-9838
19421 Village Dr., Sonora, CA
Alcoholics Anonymous: (209) 533-1134
24 hour Answering Service
Al-Anon: (888)-425-2666 for meeting information and schedules
Narcotics Anonymous: (209) 533-2348
Nicotine Anonymous: (877) 879-6422
Gamblers Anonymous: (888) 424-3577
ADDITIONAL COMMUNITY RESOURCES
The Enrichment Center
102 Hospital Rd Sonora, CA 95370
(209) 533-6695
David Lambert Drop In Center
347 W. Jackson Street Sonora, CA 95370
(209) 533-4879
ALCOHOL AND DRUG SERVICES
(209) 533-6245
Alcohol and Drug Treatment: Individual, group and family treatment for persons with a substance abuse or addiction problem.
Dual Diagnosis Treatment: Counseling for clients who have alcohol and/or drug problems in addition to a mental health disorder.
Perinatal Treatment Program: Specialized alcohol and drug treatment for pregnant and/or parenting women.
Priority will be given to pregnant women who are intravenous substance users.
Adolescent Brief Intervention Program: Early intervention for youth and teens using alcohol and/or drugs through individual and family counseling.
Adult collaborative justice court types include:
Community/Homeless Courts
Drug Courts
DUI Courts
Mental Health Courts
Reentry Courts
Veterans Courts
About Juvenile Collaborative Court Models
Juvenile collaborative justice court types include:
Youth Domestic Violence/Dating Violence Court
Juvenile Drug Courts
Juvenile Mental Health Courts
Peer/Youth Court
Girls Court and CESE Courts