Gardening Anywhere, Tools and Ideas for Smaller Spaces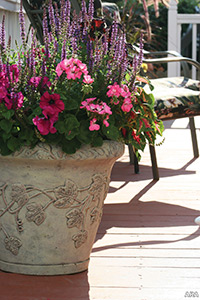 (ARA) – Whether it's five stories up in an apartment building or in a tiny backyard, it's possible to grow greenery. As long as there is access to water and sunshine, people with the desire to add a little plant life to their living space can break out the watering can and create a green space.
Small-area and container gardening are easy, relatively inexpensive activities that people of all ages can enjoy. Today's lawn and garden market is full of products aimed to satisfy the garden enthusiast in any location. Windowsill boxes, mini-herb gardens, packaged potting mixes and containers of all shapes and sizes make it easier than ever to grow something beautiful, no matter where you live.
'A container garden offers residents in smaller, often urban, spaces the chance to grow and eat fresh vegetables and enjoy beautiful flowers,' says William Moss, a master gardener specializing in urban gardening and author of the 'Moss in the City' e-newsletter for the National Gardening Association. 'A well-maintained vegetable container garden can produce enough vegetables to prepare nutritious meals and save money at the same time.'
Little Time, Big Convenience
One of the many benefits of small-space gardening is the small amount of time and effort it takes. As with any type of garden, it requires commitment and care. Ensuring plants get the proper amount of sunlight and water is crucial. However, a smaller space means less weeding and fewer pests. Slow-release fertilizer and automatic watering systems also cut down on time. Miracle-Gro Watering Can Singles are great time savers, making it easy to feed plants with convenient pre-measured packets of water-soluble plant food that can be quickly poured into a watering can.
Other considerations include the plants' location. It is important to secure plants kept on windowsills or terraces so they won't blow away during strong winds. If plants are frequently exposed to inclement weather, they should be moved to a sheltered spot or protected using supports and cages.
Doing a Lot with a Small Space
Another important benefit of small-space gardening is the amount of room needed. Depending on the plant, almost any container is acceptable as long as it can hold eight inches of soil and has holes at the bottom for water to drain. Rocks can be put in the bottom to assist drainage if there are no holes. Containers also tend to dry out quickly, so paying attention to watering and feeding is critical. Avoid filling the container with ground soil that can contain bacteria or fungi. Instead use packaged potting soil that is supplemented with fertilizer and other nutrients. Be sure to look at the care instructions that come with the plants and follow the directions on the potting soil and supplements to ensure the best outcome possible.
Growing For Food and Fancy
Different types of flowers, fruits, vegetables and plants thrive in containers. Vegetables such as peppers, garlic and lettuce are all easy to grow in containers. Herbs are especially well-suited for pots, and are easy to maintain since most pests tend to avoid them and they're not susceptible to disease.
As long as there is adequate sunlight, herbs can be grown outdoors or indoors. Many herbs, like basil, dill, oregano and parsley, grow easily from seeds, which are less expensive than seedlings. Plant height is important to keep in mind, as basil, parsley and dill can grow one foot or taller.
For a plant that's a beauty and easy-to-care for, try miniature roses. Available in a multitude of colors and varieties, it is easy to find one for just about any small space. Other colorful and low-maintenance container flowers are geraniums, impatiens, begonias, marigolds and zinnias. During the summer, Moss recommends growing plants with tolerant dispositions that can stand up to heat, pests and stormy summer weather. Flowers like the crinum lily, nasturtium, trailing petunia and moss rose are all colorful, low-maintence and grow during the summer months.
'Many different plants grow well in containers, but depending on location, some plants will flourish where others will wilt,' says Moss. 'Check with local nurseries for flowers that thrive in your area.'
For more tips and fun ideas on starting a container garden or growing in small spaces visit www.itsgrotime.com and check out Moss' page on the National Gardening Association Web site, www.garden.org/urbangardening/.
Courtesy of ARA Content
---