Make Your Basement the Ultimate 'Man Cave'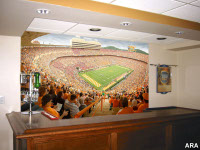 (ARA) – If a man's home is his castle, shouldn't there be one room in it where he can 'hold court' with his noble peers and watch the game? Or where he can retire for solitude to take care of some paperwork or indulge in some woodworking?
Welcome to the concept of the 'man cave,' guys. You can create the sanctuary of your dreams and enhance your home value at the same time by renovating your basement into the ultimate guy retreat.
More than half of home buyers say they want a finished basement, according to a survey by the National Association of Home Builders. Real estate experts agree that adding square footage to your living space will deliver the dollars when it comes time to sell. How you decorate that extra space will be secondary.
Here are the top 10 things you'll need to turn your basement into the ultimate 'man cave':
Finish it. – First, finish those cinderblock walls and concrete floor. If you're a real handyman, you can do the job yourself the old-fashioned way with framing and drywall. Or, you can go quick and easy – and only slightly costlier – with a professionally installed basement finishing system that will cut construction time to just a couple of weeks, rather than months.
Get wired. – You have to have a TV – big screen preferred. And tunes, man. Getting wired can be as easy as connecting cable to your portable TV and strategically placing a boom box, or as grand as a wall-mounted, high-def, flat screen TV with surround sound.
Go wireless. – A laptop or desktop is a man-cave must for work and play. But you don't want wires cluttering up your kingdom. If you haven't already done so, install wireless connectivity on the primary computer on the main floor of the house. That way, you can use the Internet in the basement without the expense and inconvenience of a lot of wires.
Get 'guy' with the décor. – Nothing says 'This space belongs to a guy' like sports décor. Frame and hang your old high school or college jersey. Mount that foul ball you caught in the bottom of the ninth. Put up a wallpaper mural of your favorite sport. From scenes that give you a pitcher's-eye view of home plate and the stadium, to images that make you feel like you're on the green at Pebble Beach, you'll find easy-to-hang wallpaper murals at www.muralsyourway.com. You can customize the mural size or even have one made from a picture of your own sporting glory days.
Drink up. – Watching the game? You're going to need liquid refreshment. A wet bar is every guy's dream, but you can also cool off effectively and economically with a small refrigerator or even a portable wine keeper.
Snack attack. – The guys are going to work up appetites playing friendly poker and it could get ugly if you don't have any snacks on hand. Be sure to include space for snack storage in your design, whether it's a pantry or some cabinets.
Sit on it. – You'll need the armchair of your dreams in order to be an armchair warrior. Make sure there's some comfy – and durable – seating for your buddies too.
Work it out. – Sometimes a guy just wants to work up a sweat. Portable treadmills and exercise bikes are better than ever and easy to store. Set aside a corner of your man room for the manliest activity of all – exercise.
Or work on it. – If you're a doer rather than an observer, you'll want a well-equipped workbench.
Sit on it, part II. – It wasn't just Al Bundy's dream. It's the ultimate man room upgrade – your own private bath.
Courtesy of ARA Content
---