Trump Tackles Wildfire Suppression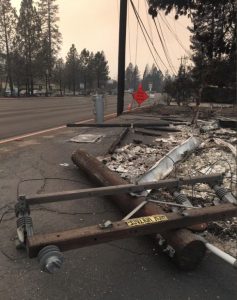 Camp Fire Destruction

View Photo
Sonora, CA — Proposing what some are calling an ambitious plan, the Trump administration's goal is to slow Western wildfires by bulldozing, mowing or revegetating large swaths of land along 11,000 miles of terrain in the West, including California.
The plan involves creating fuel breaks on about 1,000 square miles of land managed by the U.S. Bureau of Land Management in an area known as the Great Basin, which includes parts of Idaho, Oregon, Washington, California, Nevada and Utah. The initial cost is estimated between $55 million to $192 million then up to $107 million annually to maintain them.
Wildfire experts acknowledge the program could help slow fires, but say that it won't help with the most extreme fires that can jump these strips of land. They also comment that the breaks could fragment wildlife habitat, which is a major concern of the environmental group, Center for Biological Diversity. Its Nevada State Director, Patrick Donnelly, conveys that the plan is ill-conceived, expensive and lacks scientific backing.
"This seems like the Interior is trying to demonstrate they are doing something, and they want something that is impressive to people, like: `Look at us, we've bulldozed 11,000 miles of desert,"' Donnelly said. "Ultimately, this is a misguided effort."
Noting that it could break up habitat for sage grouse, deer and the Pygmy rabbit, Donnelly adds that the money would be better spent planting native seed and sagebrush to get rid of non-native plants that make fires worst.
This proposal does not include U.S. National Forest Service lands. Currently, the plan is out for public comment and pending environmental review. If approved, some of the land could be cleared as soon as next year while other projects could take several years.