Teamwork Key In Active Shooter Training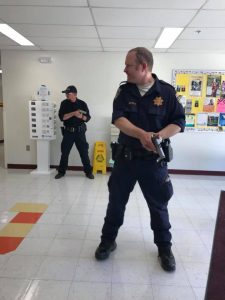 Active Shooter training at Columbia College

View Photos
Columbia, CA – Armed officers from the Sonora Unit of the CHP and Sonora Police Department were moving in tandem while converging on an area of Columbia College that served as the scene of an active shooter training.
On Wednesday, from 8 a.m. to 4 p.m. the officers tackled two main goals, as CHP spokesperson Steve Machado details, "The first part of the day officers learned how to do technical casualty care and also they went through a series of isolation drills where they learned ways to enter buildings and work as teams together. The second part of the day they took those tactics that they learned and used them in live scenarios."
Noting that it takes the entire community working together to keep the community safe along with the fact that there are only a handful of officers working at any given time of the day or night, Machado adds that it is imperative that there are good working relationships. Sonora Police spokesperson Sgt. Curtis Hankins says the training "was excellent, everybody worked together, better than my expectations." He adds, "We walked away with a better working relationship, better communication tools to talk to each other and how to clear a scene, respond to a scene and help victims."
Machado shares that a second training for additional officers will take place later this month.