Major Draw For Mountain Bikers Coming To The Mother Lode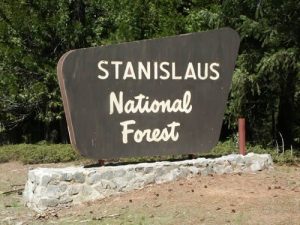 Stanislaus National Forest

View Photo
Groveland, CA – A destination mountain bicycling trail system is coming to the Mother Lode.
Five years in the planning, the project, spearheaded by the Groveland Trail Heads mountain bicycling club, received the Stanislaus National Forest's approval early last October.
Called the Ferretti Non-Motorized Trail System, plans now rolling out include 13.6 miles of single-track trails for beginning, intermediate and advanced mountain bike riders within a 500-acre parcel in the Groveland Ranger District.
While the district boasts over 16 miles of hiking trails, this will be its first mountain biking route. The area, located between Groveland and Yosemite National Park, includes parts of the federally designated Tuolumne Wild and Scenic River and provides stunning ridge view vistas of the watershed and Yosemite high country.
Backed By Enthusiast, Volunteer, Business Support
Working in tandem with user groups and clubs like the Groveland Trail Heads, the Forest Service can increase the number of recreational trails and delegate maintenance chores to club volunteers. Since the bike path will incorporate existing multi-use trails, it will offer opportunities for other trail user groups to enjoy the area.
The estimated cost for constructing the first 1.3 to 1.5-mile segment is $26,900 to $33,800. The project, which is receiving broad support from the local business and tourism community as an economic development booster, includes involving local youth as another primary goal. One way will be through the establishment of a Forest Stewardship program for youth so they can help plan, design and build the trails.
Organizers say they are also receiving interest from the National Interscholastic Cycling Association's Nor Cal High School Cycling League to host some of its races and mountain bicycling camps within the new trails system. Additional plans are to host races, group rides, trail stewardship summits, and other bicycling-related events.
Proponents point out research indicating the location as ripe for a bicycling destination attraction; located seven hours from other trails the Groveland Ranger District, besides being a Yosemite gateway, it is between one to four hours away from an estimated 230,000 bicyclists, many who come from the San Francisco Bay Area, Silicon Valley and Central Valley.
Read more about the project here.