Sonora Will Consider Increasing Development Fees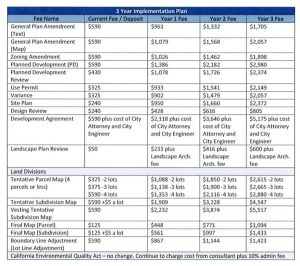 City of Sonora Development Fees

View Photo
Sonora, CA — As a way to increase city revenue, it may soon cost notably more to move projects through the development process in Sonora.
The city reports that the current fees were put in place in 1998, and a recent fee study found that they are well below comparable areas like Angels Camp, Jackson, Oakdale, Riverbank, Calaveras County and Tuolumne County. The study also found that the fees are allowing the city to recover approximately 5.7-percent of the costs for providing the services.
The proposed increases would be spread over a three year period, and impact things like general plan amendments, use permits, boundary line adjustments, site plans, design reviews, etc. For example, a Planned Development Review currently costs $430, and it would increase to $1,078 in year one, to $1,726 in year two and to $2,374 in year three. Click on the image box to see the various fees that would be changed under the proposal.
The issue will be discussed at Monday's city council meeting that will get underway at 5pm at Sonora City Hall.