Jamestown Traffic Light Project Concludes After Concern Voiced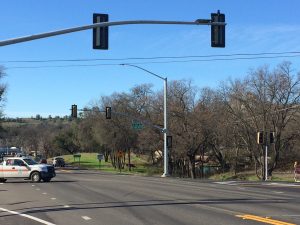 New Jamestown Traffic Light

View Photo
Sonora, CA — The Tuolumne County Supervisors approved a "notice of completion" for a $3.5-million project in Jamestown, but the board chair first voiced a concern.
The new stoplight at Highway 108 and 5th Avenue has been operational for several months, and most of the funding for its construction came from Traffic Impact Mitigation Fees. Board chair Karl Rodefer, who represents Jamestown, stated, "The sequencing on those two lights (other one located near Rawhide Road) on 108 in Jamestown is abysmal, and it creating unnecessary traffic delays getting in and out of Jamestown, and I really want Caltrans to take a look at that, because it needs to get fixed."
Supervisor John Gray responded that he believes the Tuolumne County Transportation Council asked Caltrans to look at the issue at one point in the past, and Rodefer then responded, "It's still bad."
The total traffic light and widening project came in under budget. It was anticipated to cost $3.9-million, so the additional $394,510 will go back into a traffic mitigation fund.