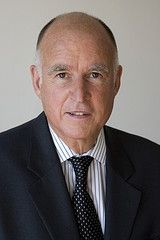 Jerry Brown

View Photos
Sacramento, CA – In the race for California Governor, Democrat Jerry Brown is challenging Republican Meg Whitman to a series of 10 town hall style debates.
The Associated Press Reports that Brown says town hall exchanges will bring variety to a contest that has so far been dominated by scripted advertisements.
Brown's challenge comes less than 24 hours after polls closed for the Primary Election.

For a complete list of winners from Tuesday's election, click here.
Written by bjhansen@mlode.com.