Sonora High School Bond May Fail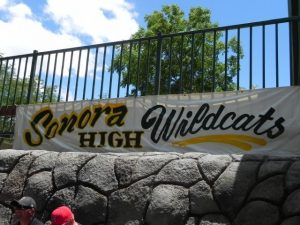 Sonora High Banner

View Photos
Sonora, CA — A recent myMotherLode.com informal poll asked; "Will you vote to approve the Sonora high school Bond issue for $23 million to improve facilities?" The majority, 66 percent said no they would not approve the bond. Just over 16 percent said yes and another 16 percent said they were not sure.
The approved bond measure includes a list of specific school facilities projects to be funded. The Governing Board of the District certified that it has evaluated safety, class size reduction and information technology needs in developing the list of projects that need funding.
The specific school facilities projects to be funded include, but shall not be limited to:
Repair or replace leaky roofs.
Improve student access to computers and modern technology by updating technology and technology infrastructure.
Repair/replace deteriorating plumbing, drainage, and sewer systems.
Improve handicapped accessibility (ADA) accessibility upgrades to access school sites, parking, restrooms, relocation of some existing electrical devices, drinking fountains, playground equipment, etc.
Make health and safety improvements to increase student safety.
Upgrade, renovate and equip science labs, multipurpose rooms, media centers, auditoriums, libraries, and other school facilities.
Upgrade and renovate outdated classrooms, restrooms and school facilities.
Replace old and energy inefficient heating, ventilation, and air conditioning (HVAC) systems.
Improve energy-efficiency by installing energy-efficient systems including "green" building projects and sustainable building practices.
Replace intercom and telecommunication systems, and upgrade wireless systems and internet/network connections.
Replace inadequate wiring and electrical systems.
Replace fire alarm systems, repair fire safety equipment, emergency exit lighting improvements, and upgrade/extend fire water lines and hydrants to comply with current codes.
Improve/upgrade/renovate P.E. fields and facilities for school and community use.
Relocate/replace temporary portable classrooms.
Abate and remove hazardous materials identified prior or during construction.
Address unforeseen conditions revealed by construction/modernization (such as plumbing or gas line breaks, dry rot, seismic, structural, etc.).
Other improvements required to comply with existing building codes, including the Field Act, and access requirements of the Americans with Disabilities Act.
Necessary site acquisition and preparation/restoration in connection with new construction, renovation or remodeling, or installation or removal of relocatable classrooms, including ingress and egress, removing, replacing, or installing irrigation, utility lines (such as gas lines, water lines, electrical lines, sewer lines, and communication lines), trees and landscaping, relocating fire access roads, and acquiring any necessary easements, licenses, or rights of way to the property.
Rental or construction of storage facilities and other space on an interim basis, as needed to accommodate construction materials, equipment, and personnel, and interim classrooms (including relocatables) for students and school functions or other storage for classroom materials displaced during construction.
Acquisition of any of the facilities on this Bond Project List through temporary lease or lease-purchase arrangements, or execute purchase option under leases for any of these authorized facilities.
For any project involving rehabilitation or renovation of a building or the major portion of a building, the District's Board of Trustees will determine if demolition and new construction is more cost effective than renovation.