Roadwork On Local Highways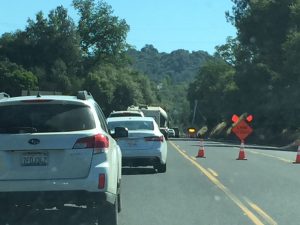 Roadwork

View Photos
Caltrans has several areas of road work  planned. This detailed schedule of work may change due to weather, traffic, availability of equipment, and other issues.
Be aware of a spraying operation that will limit traffic to one lane for 40 miles on Highway 4 from the Old Highway Connector to the Calaveras/Alpine County line. The spraying will begin at 6 AM on Monday, May 13 and end at 6 PM each day through Friday. Also on Highway 4 Caltrans crews will be pouring concrete from Upper Moran Road to the Big Trees Park Entrance.  The work will begin Wednesday at 6 AM wrapping up at 6 PM and will continue Thursday and Friday. Traffic will be limited to one lane and cause delays of 10 minutes.
As reported here Caltrans extended the closure of HWY 49 for an area between Coulterville and Mariposa.  Specifically, HWY 49 is closed from HWY 132 just south of Coulterville to Bear Valley Road. The closure is extended through Thursday, May 23, 2019. Motorists can expect an additional hour of travel time.
North of Sonora on HWY 49 in the area of O'Hara Drive and Columbia Way be aware of utility work on the right shoulder. The work is scheduled for Thursday and Friday from 6:30 AM to 5:30 PM.
Road striping from Soulsbyville Road to Pinecrest Lake Road will restrict traffic to one lane and cause 10-minute delays. The work will be Monday through Friday from 6 AM to 7 PM. From Clarks Fork Road to Kennedy Meadows Road tree work has closed one lane long term since May 6.
At Highway 108 and 120 crews are working on the shoulder. The area is also where the Yosemite Junction stoplight is being set up as reported here. Shoulder work in the Chinese Camp area and from the Tuolumne/Mariposa County Line to Ferretti Road. The work will occur between 7:30 AM and 3:30 PM Monday through Friday.
On Highway 120 expect to see slope repair and clearing work from the South Fork Tuolumne Bridge to Golden Arrow Road. The area of slope repair may cause 10 minute delays all week from 7 AM to 1 PM. There will also be areas of shoulder work in the area of Ferretti Road and Hopper Street from 6:30 AM to 4:30 PM.