Rock Climber Dies In Yosemite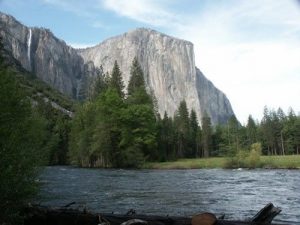 Yosemite - El Capitan

View Photos
Yosemite, CA — A man died after being hit by a falling rock while climbing El Capitan.
Yosemite officials report that 28-year-old Felix Joseph Kiernan of London, England was about 600 ft. up along the East Buttress of El Capitan. A loose rock, estimated to be one foot by two feet, fell approximately 150 ft. and struck Kiernan. It had been dislodged when another climber stepped on it.
The accident happened at 2pm Sunday. When notified, park rangers immediately started climbing the route, and arrived at the accident scene at 4pm. They quickly pronounced Kiernan dead. He was hoisted away by a CHP helicopter and flown to Yosemite Valley.
Also in Yosemite National Park, a full-fledged search for 19-year-old Aleh Kalman of Sacramento has been put on hold today as officials wait for the water levels of the Merced River to subside. As reported previously, Kalman was swept over the 600 ft. Nevada Fall on Saturday afternoon. He been swimming in the water and got swept away in the current.