Update: Several Power Outages In Mother Lode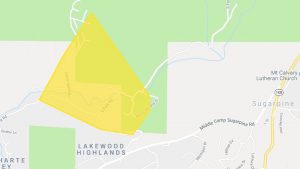 Outage in the Sugarpine area

View Photos
Update at 6:30 p.m.: New smaller outages are being reported in Calaveras County. In the Vallecito area, 12 PG&E customers have no electricity along Parrotts Ferry Road near Highway 4.  Along Fricot City Road near Ponderosa Way, another 13 customers have no lights near Angels Camp. The company reports crews are working to restore power sometime in the 8 o'clock hour.
Additionally, two outages in the West Point area that are impacting 35 customers detailed below have had their restoration time pushed to around 11 p.m. Further information on all outages in the Mother Lode can be viewed below.
Update at 5:30 p.m.: PG&E is reporting a new power outage in the Sugarpine area of Tuolumne County impacting 50 customers. The electricity went out around 4:45 p.m. in the vicinity of South Fork and Center Camp roads. The utility has a crew assessing the situation and has posted an estimated repair time of 8:15 p.m. Further details on three outages in Calaveras County can be viewed below.
Original post at 4:30 p.m.: Calaveras County, CA — Nearly 70 PG&E customers are without electricity this afternoon in Calaveras County.
The lights went out this afternoon in three separate outages. The latest outage is in the Murphys area where just after 4 p.m. 34 customers lost power along Dogtown and Esmeralda roads, off Highway 4. In the West Point area, two outages are impacting 35 customers. The outages are on either side of Highway 26. There are 21 customers that without electricity along Higdon and Spink roads. Another 14 are impacted along Bald Mountain Road.
The utility reports that crews are assessing these outages to determine causes and have posted a restoration time of 5:30 p.m. for those in the West Point area and 8 p.m. for the Murphys customers.