Felon Busted For Marijuana Grow, Drug Lab, Firearms, Ammo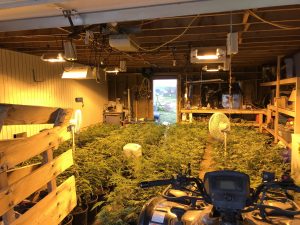 Martinez arrest for marijuana grow and BHO lab in Valley Springs Mar 22 2019

View Photos
San Andreas, CA – A Calaveras County man is facing numerous felonies in connection with converting a home and garage into a marijuana cultivation and honey oil lab operation.
Calaveras County sheriff's officials report that the Marijuana Enforcement Team (MET) on Friday arrested 43-year-old Jason Robert Martinez of Jenny Lind at a property in the 9500 block of Almond Drive in Valley Springs on multiple charges.
The team first served a search warrant for illegal marijuana cultivation at the property and once inside the residence found part of it had been converted into a grow area. Officials also located marijuana plants in a greenhouse and a garage, in which they also found a Butane Honey Oil (BHO) conversion lab.
Deputies arrested Martinez on scene and seized 463 marijuana plants, just over 174 pounds of processed marijuana and over 14 ounces of concentrated marijuana along with two rifles, a handgun, and a shotgun.
He faces charges of illegal marijuana cultivation; maintaining a drug house; possession of marijuana for sale; criminal conspiracy; extracting cannabis concentrate in a dwelling; also possession of a firearm and ammunition by a felon. His bail was set at $150,000.00.
The Calaveras County Sheriff's Office encourages anyone with information on illegal marijuana cultivation sites or sites manufacturing concentrated cannabis to call its Marijuana Tip Line at 209 754-6870.