Bigger Carports And Homemade Food Sales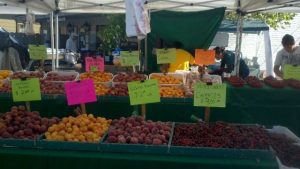 Sonora Certified Farmer's Market

View Photos
Sonora, CA – Sonora City Council takes a step closer to residents building larger carports. A new ordinance would allow carports up to 340 square feet to be built on property setbacks without a conditional use permit.
City of Sonora Community Development Director, Rachelle Kellogg says, "That allows people especially on smaller lots to be able to have a carport that normally they wouldn't be able to because their yard wouldn't be big enough. Their setback areas don't allow for it, so this does provide an option for people to get their cars off the street and get them into covered parking."
Also, the council moved forward to approve a new ordinance that would include language in a state statute allowing the preparing and packaging of low risk foods for commercial sale in a home kitchen rather than a commercial kitchen, which has stricter requirements.
Kellogg says, "It will provide opportunities for people who do the farmers market or sell to some of the stores downtown. It would provide them with an opportunity that otherwise they wouldn't have because they would have to rent a commissary kitchen and have that expense in order for them to sell the goods."
The council will decide both ordinances at its April 1st meeting.