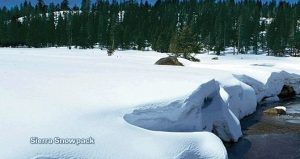 Sierra Nevada Snowpack

View Photos
Sacramento, CA — The Department of Water Resources conducted its second snow survey and finds California's mountain snowpack is below average. Measurements show the water content at 93 percent of normal.

DWR Director Mark Cowin says, "We're still seeing decent snowpack conditions due to storms in late November and early December. Those early season storms also erased the deficit in our reservoir storage, but relatively dry weather this month is once again a reminder that the weather is unpredictable and we must always practice conservation."
The Sierra Nevada snowpack provides approximately 1/3 of the water that is utilized by Californians throughout the year. The DWR conducts manual snow surveys during the first week of the month from January to May.