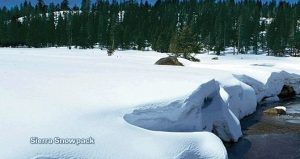 Sierra Nevada Snowpack

View Photos
The Department of Water Resources says the Sierra Nevada snowpack is in good shape, but officials warn it is still early.
The first official snowpack survey of the year was conducted Wednesday, and shows the statewide average is 134% of normal for this time of year. DWR officials warn, however, that it's too early to get excited.
"While this is very encouraging, and quite promising, for water supplies, we've still got a majority of the winter to go," says Frank Gehrke, DWR Hydrologist. "It can easily just shutdown."
The Sierra Nevada snowpack provides approximately 1/3 of the water that is utilized by Californians throughout the year. The DWR conducts manual snow surveys during the first week of the month from January to May.