Chicken Ranch Casino Eyes Economic Growth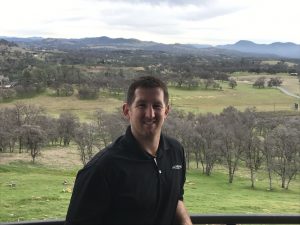 Lloyd Mathiesen stands from the deck of his office, overlooking the Tribe's land, in Jamestown

View Photos
Jamestown, CA — With construction of a new event hall now complete, an expansion of gaming underway, the purchase of the Jamestown Hotel, and the potential to construct a new casino within the next 5-8 years, much is happening at the Chicken Ranch Casino.
Owned and operated by the Chicken Ranch Rancheria of Me-Wuk Indians, the casino first opened in 1985. There are currently 40 tribal members, and of those, 20 are voting members, meaning they are over the age of 18. Clarke Broadcasting met with Lloyd Mathiesen, who was recently re-elected to new three year term as Tribal Chairman, to hear about current and long-term plans.
As part of an expansion of gaming, 247 machines are being added, and nine tables. It is in addition to the existing 360-plus machines. The casino is often running at a capacity of around ninety to ninety-five percent, so Mathiesen says they will be a welcomed addition. He anticipates the renovation to be finished around May 1st.
To help with traffic flow in and out of the casino, the tribe continues to work with Caltrans to plan for a roundabout on Highway 108. Construction is tentatively planned for Spring of 2020.
In addition, directly across Highway 108 the tribe owns hundreds of acres that will be put use through a partnership being initiated with CAL Poly, with details still in the early stages.
The tribe is also setting a footprint into downtown Jamestown, finalizing the purchase of the Jamestown Hotel. Mathieson and other members of the tribe grew up in Jamestown and have a passion to see it grow economically.
He adds, "It allows us to be a part of the Jamestown community, as far as downtown, and we can see what we can do, as far as other changes, so that it can get back to where it used to be."
More economic ventures are in the planning stages, as this past fall the tribe initiated a new economic development company. Mathiesen notes, "We are just getting it underway and working on a five-year plan."
Within the next decade, there may even be a new casino constructed, to meet growing demand, closer to the earlier mentioned roundabout. Mathiesen shares, "That's what we would love to do. Obviously we have to renegotiate our compact with the new Governor, Gavin Newsom. We also want to see how our new expansion goes off. But, we're shooting for 5-8 years (for a new casino). That's what we'd like."
Chicken Ranch Casino currently has around 230 employees. Click on the image box to see some of the recent additions, ongoing construction, and where the new roundabout, and potential new casino, will be located.