Wendy's Project Back On County Planning Agenda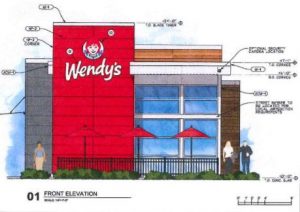 New Wendy's proposed building design

View Photos
Sonora, CA — Plans to build a Wendy's restaurant in Sonora were halted earlier this month by the Tuolumne County Planning Commission when it ordered a traffic safety study be conducted.
That study has been completed allowing for the issue to once again come before the commission in the form of a public hearing next week. The drawings in the image box show the fast-food eatery would be 2,568 sq. ft. and include an outdoor patio, 28 parking spaces and an onsite bike rack. It would be located at the intersection of Mono Way and Fir Drive in the vacant lot across from rival McDonald's. As reported here, during a public meeting adjoining property owners mainly expressed concerns over traffic and safety issues, which prompting the study.
County Director of Roads Duke York relays that the study conducted by Traffic Consultant and Engineer Kenneth D. Anderson looked at the existing traffic operation conditions, the traffic circulation and characteristics of the site. Also researched was the recent collision history, timing of the traffic light at the intersection and sight distance issues. While the study found that delivery trucks can safely navigate the site, according to York, better signage was recommended. "They are basically some standardized signs at the entrance to the site regarding the movements vehicles have to make because it's right in, right out only. There are very effective signs in directing traffic and keeping motorists from doing inappropriate things."
A green light by the planning commission would move the project forward unless an appeal is made, then the final decision would be up to the Tuolumne County Supervisors.
Another item on the agenda involves allowing an AT&T/Epic Wireless Group 128 foot cell tower to go up on a two acre plot located at 29822 Highway 108 near Lassen Drive in Cold Springs. The applicant is asking for a conditional use permit and special zoning variance for the site, which currently has two commercial buildings including a convenience store with gas and pumps.
The planning commission meeting is scheduled for Wednesday (Nov. 7) beginning at 6 p.m. in the Board of Supervisors Chambers on 2 South Green Street in Sonora.