Update: House Fire In Jamestown Area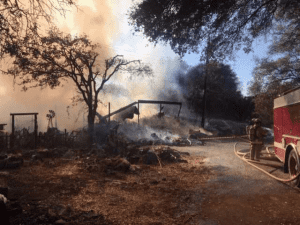 Quartz Fire TCSO Photo
Update at 5:25pm: Crews are mopping up the Quartz Fire that destroyed one home and engulfed three-quarters of a second before being contained.
Update at 4:43pm: Lights are back on for 85 customers who lost power as the Quartz Fire broke out earlier this afternoon near Jamestown in the Stent area.
CAL Fire officials say there is no other updated information regarding the incident at this time. Read on for more details.
Update at 3:53pm: Firefighters are working to contain the Quartz Fire near Jamestown that currently involves two structures.
CAL Fire spokesperson Lindy Shoff says the second structure is 75 percent engulfed. The first structure burned to the ground. Both are double-wide trailers. The spot fires that hit nearby vegetation are contained, she adds. Expect traffic controls in the area for awhile yet. Investigators on scene are now working to determine the cause.
Update at 3:36pm: CAL Fire officials say firefighters are getting a handle on the Quartz Fire burning near Jamestown.
CAL Fire spokesperson Lindy Shoff reports that firefighters are working to contain flames that hit a second structure, also a double-wide trailer, which is about 25 percent engulfed. Spot fires that escaped into nearby vegetation are now contained and air tankers released from the incident.
PG&E is reporting that 85 customers are out of power along Jacksonville Road-Stent Cut Off and nearby Algerine Road. To view the outage map, click into the image box slideshow. Estimated time of restoration at this point is 6:45 p.m.
Update at 3:26pm: More units are being called to a structure fire near the intersection of Quartz Alley and Jacksonville Road south of Jamestown in the Stent area.
Reportedly, the fire has moved from a fully engulfed double-wide trailer to nearby vegetation.
According to CAL Fire spokesperson Lindy Shoff, there are multiple exposures and power lines down. However, no outage has been reported as of yet. Traffic controls are reportedly being placed at Algerine Road at the Stent Cut Off.
Original Post at 3:21pm: Jamestown, CA — There is a heavy amount of fire activity in the area Quartz Ally and Jacksonville Road in the Jamestown area.
Fire officials are on the scene of a house fire with reports of other spot fires in the same vicinity. Some power lines are also down. You will need to avoid the area.