Update: Units Responding To Columbia For Vehicle Vs. Pole Crash, Fire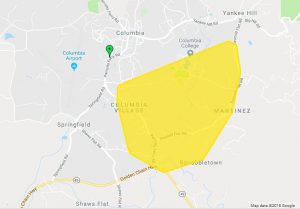 PGE Columbia Outage Map Sept 18 2018

View Photos
Update at 3:56pm: Power is back on for all but 64 customers in the Squabbletown area near Columbia College, who should be getting their lights back on before 6 p.m.
The power restoration comes in the wake of a solo vehicle crash just before noon that took out a pole and power. The successful crew work is also signaling that the related road closure (explained below) on Sawmill Flat Road will soon conclude.
Update at 3:04pm: While PG&E officials are not giving a time estimate for a stretch of Sawmill Flat Road to reopen as they repair a power pole downed in a crash, CHP officials are saying it could be a few hours yet.
According to CHP Sonora Unit officials, traffic controls set up between Parrotts Ferry and Red Gulch roads were turned over to utility crew personnel. PG&E initially estimated 3:15 this afternoon as the time that power would be restored to 430 customers who lost power when an SUV crashed into the pole just before noon; it is obvious that it will be some time yet before that happens. The repair location is the 21,000 block of Sawmill Flat Road.
The CHP was able to confirm that the solo crash, which involved a female in a white Subaru SUV, did not result in any injuries to the driver.
Update at 1:44pm: CHP officials are indicating that Sawmill Flat Road remains closed between Parrotts Ferry and Red Gulch roads for cleanup following a solo SUV crash into a power pole just before noon.
At this point, officials estimate it may be a couple of hours before that roadway section reopens to thru-traffic. Yankee Hill Road is an alternate route to access Columbia College and nearby communities.
According to PG&E, about 430 customers remain without power following the incident. Officials also indicate that a crew is still en route to the outage. Read more about the incident below.
Update at 12:13pm: CAL Fire officials report first arriving units on scene for a single-vehicle crash that triggered a small vegetation fire were able to quickly contain it although power is reported out for about 430 PG&E customers.
CAL Fire spokesperson Emily Kilgore shares that the fire was snuffed and about five-feet by five-feet in size. Since the accident, which involved a vehicle versus a power pole, brought lines down over Parrotts Ferry Road near Sawmill Flat Road, you will want to avoid the area. Units are still responding to take care of the crash and any injuries. CHP officials say there is a female driver involved, who exited the vehicle, but she had no passengers.
The outage is impacting Columbia College and the Columbia Village, Pigeon Gulch and Martinez areas. PG&E is indicating that the estimated time of restoration at this point is 3:15 p.m. To view the map, click into the image box.
Original Post at 12:08pm: Columbia, CA — Multiple resources are responding to Columbia for a solo crash reportedly involving a power pole, lines hanging over the road and the ignition of a vegetation fire.
The incident was called out just before noon with Columbia aircraft listed among the responders to Parrotts Ferry Road near Sawmill Flat Road. Reportedly, the vehicle hit the pole and wound up down an embankment. Avoid the area if possible for now and we will provide more information as it becomes available.