Many Open Seats On Local School Boards And Special Districts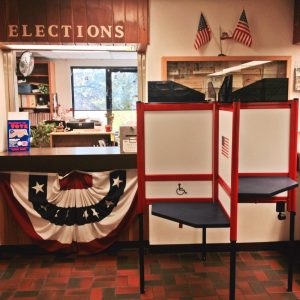 Tuolomne County Election Office

View Photos
Sonora, CA — The Tuolumne Utilities District and Sonora High School board races look to be competitive this November, and local education leader Margie Bulkin has her eyes on a new seat.
The filing deadline to run for various school boards and special districts is next month, and many local races still do not have any candidates in the first few weeks of the filing period. To this point, only a couple of races are competitive, with more candidates then open seats.
For Sonora High School, the Trustee Area Two seats that are currently held by Kathy Ankrom and Jeff Norstrom will be on the November ballot. Neither have filed papers for re-election to this point, but candidates to do so include Jim Riggs, Erik Andal and Michael Garrett. The top two vote getters will win the seats. In District One, the seat of Rob  Lyons is on the ballot. He has not filed papers for re-election, and the lone candidate to do so is Jordan Reiser.
After recently announcing her upcoming retirement as Tuolumne County Superintendent of Schools, Margie Bulkin is currently the sole candidate that has filed papers to run for the Yosemite Community College District (YCCD) board seat representing district one. The board oversees both Columbia College and Modesto Junior College. The seat is currently held by Lynn Martin.
The Tuolumne Utilities District has two open seats and three candidates to this point. The incumbents Ron Ringen and Jim Grinnell have filed papers, along with challenger Jeff Kerns.
The filing period for various races opened on July 10 and the deadline is August 10. However, if the incumbent declines to run, the deadline is extended to August 15. To view a list of all the races, and the current candidates, click here.