Public Input Sought For Murphys Complete Streets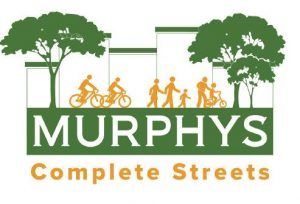 Murphys Complete Streets logo

View Photos
Murphys, CA – Plans are now well afoot to involve the public in efforts for improving walking and biking conditions in and around downtown Murphys.
The Murphys State Route (SR) 4 Complete Streets Project, funded by a Caltrans grant, launched last December. A partnership between the agency, the Calaveras County Council of Governments and Calaveras County, the first three months of this year have been dedicated to research and evaluation. A project website, which launched in April, provides public viewing of evolving plan documents as well as a link for participating in a survey that will be available in the coming months.
Currently, organizers are promoting what will be the second of three Community Workshops coming up Wednesday, June 27 for the purposes of gathering public input and reviewing conceptual design alternatives; it is also hoped that attendees will help determine a preferred design. The session is scheduled to take place from 5 to 7 p.m. at the Old School House (65 Jones Street).
Berkeley-based Placeworks, the project contractor, recently provided a summary of key issues. Describing Main Street Murphys as a well-loved destination for travelers and residents, whose scale and amenities provide a pleasant, pedestrian-oriented experience.
However, it states a demonstrated need for improved facilities for residents, students, employees, and travelers of all ages to be able to stroll and bicycle to destinations in town. Findings indicate that, in addition to safety, the benefits of creating better facilities and conditions would promote healthy exercise; reduce vehicular congestion; create more available parking; reduce air polluting and greenhouse gas emissions;
A final workshop, tentatively scheduled for late October, is intended to further develop alternative plan ideas through early fall after which a finalized plan is expected to be complete by sometime in December. Slated for early next year is a formal presentation to the Calaveras County Planning Commission and Board of Supervisors.