Calaveras Supervisors Postpone Action In Sanctuary Debate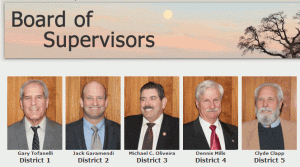 Calaveras County Board of Supervisors

View Photos
San Andreas, CA — While the board expressed support for the federal government in its battle with California over sanctuary policies, the Calaveras County supervisors postponed any formal action until next month.
On yesterday's agenda was the question of whether to pass a proclamation that indicates the county will fully comply with federal immigration officials and is in opposition to state law that limits law enforcement cooperation. A majority of those from the public that spoke during the public hearing were supportive of the federal government and opposed to the state legislation. Some expressed a desire to have a more biting "resolution" passed by the county, as opposed to the more simple "proclamation."
A local member of the ACLU spoke in opposition to the county taking a stance against the sanctuary policies. There were questions brought up at the meeting about whether the county could be sued if it takes action. Supervisor Dennis Mills stated that he feels the possibility, or threat, of legal action against the county should have no bearing on whether the county votes one way or another. It was also noted that more clarification regarding the state and federal squabble should be known following a court date in mid-June.
Board chair Gary Tofanelli polled the supervisors, and the decision was to postpone action until after the legal hearing. In addition, the supervisors expressed a desire to make the proposed opposition to state law known in a resolution, as opposed to the proclamation.