Water And Sewer Rate Increases On CCWD Agenda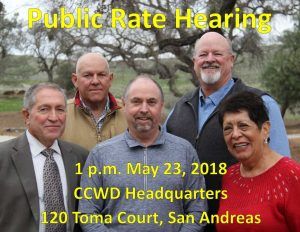 CCWD Rate Hearing

View Photos
San Andreas, CA — After holding public outreach meetings over the past several weeks, the Calaveras County Water District will vote later today on proposed increases to water and sewer rates.
For example, bi-monthly water base rates would be $112.28 next fiscal year, and increase to $120.35 by fiscal year 2022-23. Bi-monthly residential wastewater rates would be $178.91 next fiscal year and increase to $210.63 by 2022-2023. For a more in-depth breakdown of the plan, click here.
The board will open the public hearing at 1pm today in the district meeting room in San Andreas. There will be a presentation regarding the proposal, followed by time for public comments and questions, and then likely a vote. The district has indicated the rate increases are proposed to help meet rising operational costs and maintain and improve infrastructure.