Citing Fire Danger, BLM Imposes Stage 1 Restrictions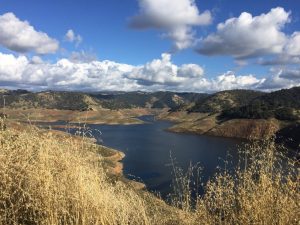 New Melones Reservoir

View Photos
Sonora, CA — Beginning this Friday at the onset of the Memorial Day weekend holiday the Bureau of Land Management (BLM) is initiating fire restrictions and temporary target shooting limitations in 14 counties including those in the Mother Lode.
According to BLM Mother Lode Field Office officials, potential fire danger is the reason for instigating Stage 1 restrictions on the public lands it manages in the Sierra Nevada foothills: Amador, Calaveras, Colusa, El Dorado, Mariposa, Merced, Nevada, Placer, Sacramento, San Joaquin, Stanislaus, Sutter, Tuolumne and Yuba counties. Fire and shooting restrictions will also affect BLM-managed recreational areas along the American, Merced, Mokelumne, South Yuba and Tuolumne rivers.
According to the National Interagency Fire Center, models are predicting a hotter and drier year with greater fire risk in tree mortality areas. In its release sent Tuesday afternoon, the BLM Mother Lode Field Office cites that nearly 90 percent of wildfires in the United States are human-caused. It also notes that whether the fires are sparked intentionally or unintentionally, those responsible are obligated to pay fire suppression and repair costs. Along with using extreme caution, whose recreating outdoors are advised to carry a shovel and water at all times and check weather forecasts and fire danger ratings before leaving home.
Stage 1 Restrictions Check List
Officials state that the restrictions/limitations listed below will remain in place until fire dangers subside:
• No shooting, use of firearms for hunting is still allowed – hot bullet fragments and exploding targets from recreational shooting can spark a wildfire
•No tools powered by internal combustion engines off established roads or trails (chainsaws or lawnmowers)
• No motorized vehicles off established roads or trails
• No fireworks, including "safe and sane" fireworks
• No welding or operating acetylene or other torch with open flame, except by special permit
•No use of explosives, except by special permit
Campfires and barbecues are allowed only in fire rings at designated campgrounds. The public is additionally advised to clear ten feet around campfires. Portable stoves with gas, jellied petroleum, or pressured liquid fuel remain authorized with a valid California campfire permit, available by clicking here.
For information on how to prevent wildfires, click here. For specific questions call the Mother Lode Field Office at 916-941-3101.