Dismissal Of Contractor Sparks Calaveras Supervisors Debate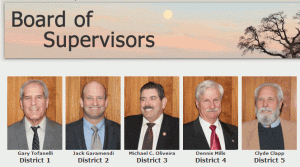 Calaveras County Board of Supervisors

View Photos
San Andreas, CA — The Calaveras County Supervisors passed a resolution extending the local state of emergency related to winter storm damage that occurred early last year, but it wasn't without a bit of controversy.
District Three Supervisor Michael Oliveira was upset that he wasn't notified that the managing contractor for storm damaged areas like Murphys Drive was recently dismissed. He identified the company as Quincy Contracting. The planning is now being overseen by the county's office of emergency services, and the public works department will assist the efforts.
Oliveira raised his voice to make it clear his displeasure that he first learned about this decision from a county employee while at the Calaveras County Fair this past weekend. He also indicated that an unidentified supervisor was having a conversation about this matter with another supervisorial candidate. No additional clarification was noted, but Oliveira is currently in a three way race for re-election.
County OES Director Michelle Patterson confirmed that the contractor was no longer performing the work, and stated the reason was out of concerns related to FEMA rules and compliance. Oliveira was concerned this decision would put the storm damaged road projects back to square one.
Oliveira also asked about an alleged seven page memo that was being circulated by the county regarding the release of the contractor. Board Chair Gary Tofanelli noted that he had not seen a memo, but if it was to be released publicly, it would be at the discretion of the county counsel. Tofanelli also argued that Oliveira was getting off the subject of the agenda item. To which Oliveira responded, "I think it is on the agenda, and it is regarding projects in my district…under the storm damage and the FEMA program."
No other supervisors commented on the matter.
County staff, including Patterson and CAO Tim Lutz, emphasized that the repairs along Murphys Road, and Blagen Road, remain on schedule.