Sonora Considering Ballot Measure For Marijuana Tax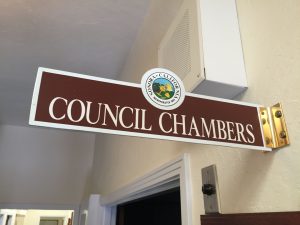 Sonora City Council Chambers

View Photos
Sonora, CA — Tonight the Sonora City Council will debate whether to approve a ballot measure for November calling for a business tax of up to 15-percent on the gross receipts of marijuana businesses.
It is a proposal to collect money from cannabis businesses that would operate under specific rules and requirements. The discussion comes in light of Proposition 64, which legalized recreational marijuana use for those over the age of 21. It would be a chance for the council to weigh the public's opinion on the cannabis debate, specifically related to sales.
Also, the council will have a discussion, and look at options, regarding federal immigration laws and the state's prohibition on local cooperation with federal immigration agents. It comes after the Tuolumne County Board of Supervisors recently declared that the county is not a sanctuary jurisdiction. Tonight's council meeting gets underway at 5pm at City Hall. It is open to the public.