A Hopping Good Time For All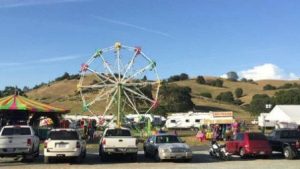 Calaveras County Fair and Jumping Frog Jubilee

View Photos
Angels Camp, CA — The Calaveras County Fair and Jumping Frog Jubilee is in full swing at the fairgrounds off Highway 49 in Angels Camp.
Yesterday was the Calaveras Idol competition, singers graced the stage all hoping to walk away with the trophy. The host was our own KKBN's Mark Corona and the judges were Star 92.7's "Morning Star Café" DJ's Maryann Curmi and Mark Grauer and KKBN's "Big Joe and Bridgette Morning Show" DJ Bridgette Fanucchi. A tally of their votes went to First Place Winner Jonny Arrow, which is the stage name for Jonny Older from Avery. He sang an original song he wrote. Arrow clearly never gives up as this was his tenth time competing for the coveted trophy. 2nd Place went to Deborah Olguin who turned a 1893 family poem into a song and 3rd Runner-up was Keifer Minehart. Of note, he held the title for the past two years. Pictures of the competition are in the image box.
Some of the main attractions taking place today including the CCPRA Pro Rodeo. Another big event is the Livestock Auction on Sunday that Fair General Manager Laurie Giannini says is an honored tradition. "We're really looking forward to our livestock auction because it's really what we're about. Part of our mission as a fairground in California is to highlight the state's agriculture and specifically Calaveras County agriculture. We do that through our exhibits and youth programs. Kids work on those animals and their projects all year long and they really are learning such great lessons. It's really a farm-to-fork program and we are really proud of it."
Click here for today's schedule provided by fair organizers. Hop on over to the fair on Sunday as the fun continues with the International Frog Jump finals at 3 p.m. on the main stage. For the rest of the day's events, click here.