Local Farmers Market Seasonal Opening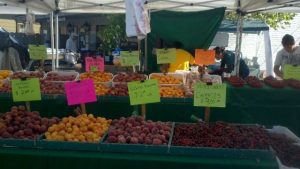 Sonora Certified Farmer's Market

View Photos
Sonora, CA– The City of Sonora's Certified Farmers Market is the first of the Mother Lode farmers markets to open, a sign that summer is almost here.
Saturday morning, the City of Sonora's Certified Farmers Market kicks off over 20 Saturdays offering fresh local produce, baked goods, handcrafted items, flowers and live music in the parking lot one block off of Washington Street at Theall and Stewart streets in downtown Sonora. The market opens at 7:30AM and closes at 11:30AM providing a colorful, friendly local morning shopping experience.
Organizers note in following health laws, except for guide, signal and service dogs, no pets are allowed in the market area.
The Theall Street parking lot, between Stewart and Shepherd streets, will close between 3:30 and 11:30AM  "No Parking" signs will go up every Wednesday — reminding everyone who uses the lot — cars will need to be moved before 3:30AM Saturday morning or be towed so the market's tents can be set up.
The Angels Camp Farmers Market begins next weekend, Memorial Day Weekend, and continues every Friday from 5 to 8PM at Utica Park. Other seasonal outdoor markets are in the planning stages, Columbia State Historic Park confirmed it will not have a weekly farmers market this year.