Calaveras Frog Jump Set To Celebrate 90th Birthday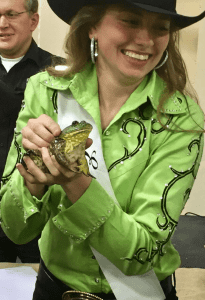 2018 Calaveras County Fair Kick Off Dinner Saddle Queen Candidate Emily Bolton warms up for frog kissing

View Photos
Angels Camp, CA — Awards and other tributes along with customary frog smooching marked this year's leap into what will be the 90th Birthday of the Calaveras County Fair and Jumping Frog Jubilee.
Appropriately enough, the theme for this year's running of the May 17-20 events is "Going Frog Wild." One of the Golden State's oldest county fairs, the event's roots go back 125 years — 35 years before the frog jumping portion of the festivities that were added in 1928.
At last night's Kick Off Dinner, Fair CEO Laurie Giannini noted that while kid-fun and family friendly activities already abound — literally and figuratively speaking — this year's daily schedule is even more packed with them. She inducted five long-time supporters onto the Fair's Honor Roll: Darrin, David and Art Mills; Kathy Campbell and Olga Moncada.
Service Awards were bestowed as follows: for 30 years of volunteering to Tim Folendorf; 25 years to Gay Callan and Laurie Giannini; 20 years to Ron Dwelley, Olga Moncada, Sandie Lema and Kathy Zancanella; 15 years to Kathy Campbell. Volunteer recognition was also given to Joe Jones, Terry and Linda Parker, Bill and Cheri Nutall, Gladdy Dillashaw and Sally Tower. Too, Junior Fairboard Scholarships of $500 were awarded to Cleriza Estoesta and Madalyn Meyers. A special Western Fairs Association (WFA) Industry Blue Ribbon Award was also presented to Michael David Fischer.
'Frog Wild' Fun For Everyone 
Along with meeting the various boards and volunteer groups, Giannini officially introduced Miss Calaveras Scholarship Competition participants Briana Wagner, Destinee Berry, Ava Mosley and Summer Hamari; also Saddle Queen Scholarship candidates Emily Bolton, Savanna Copton, Kari Farwell, Pearl Rollings and Katherine Sharp. All good-naturedly took part in the time-honored ritual of frog-kissing for anyone wielding cameras.
Thursday, May 17 at 8 a.m. is when this year's Fair officially opens for Kids 12 and Under Free Day. At noon the California Carnival will begin taking tickets as free cupcakes and a birthday party get underway to mark the 90th year of the Frog Jump. Along with an array of entertainment and attractions other daytime festivities include free frog jumping for kids 12 and under and the Saddle Queen Competition at 2 p.m. The Miss Calaveras Scholarship Pageant begins at 8.
Friday will feature numerous livestock shows and sales along with the Calaveras Idol contest with the winner opening for Main Stage performer, Americana band Reckless Kelly from Austin, TX. On Saturday, active military service personnel with ID will be admitted free. Among the day's highlights, Peewee Showmanship and arm wrestling contests; the CCPRA Pro Rodeo will start at 7:30 p.m. Sunday will bring the Junior Livestock Auction and Frog Jump Challenges followed by the International Frog Jump finals and the Destruction Derby.
To view photos from last night's kick-off dinner, click into the image box slideshow. For more fair details, click here.