Q1 Homes Sales Continue To Reflect Affordable Housing Need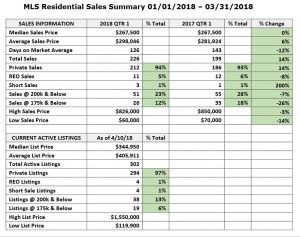 TCAR Tuolumne County MLS Summary Q1 2018

View Photos
Sonora, CA – Local realtors sharing the latest on home sales for the first three months this year compared to last year for the same period say the number sold rose 14 percent — from 199 to 226.
According to the Tuolumne County Association of Realtors (TCAR) MLS residential sales summary, average days on the market declined noticeably — 12 percent – down to 126 days from 143. While the median sales price (which is the value separating the higher half from the lower half of the home sales prices) for Q1 2018 over 2017 remained the same, the average sales price (total sales divided by the number of houses sold) of $298,046 rose six percent.
Of the total home sales from January 1 through March 31 this year, 94 percent or 212 were private sales; five percent (11) were bank-owned with about one percent (3) short sales. Although there were fewer home sales in Q1 of of last year, the percentages in these categories roughly stayed the same. Homes sold in the $200,000 and below price point this past quarter (51) made up 23 percent of the total number; in Q1 of 2017, they comprised 28 percent of the market. The high sales price this past quarter was $826,000; for Q1 2017 it was $850,000. The low sales price for Q1 this year was $60,000; for the same time last year was $70,000.
TCAR's current market snapshot, taken April 10, indicates that using the average rate of just over 75 sales per month at 302 active listings, there is currently about four months of inventory. TCAR indicates that 97 percent of the listings are private and REOs and short sales each make up one percent of what is currently available. The current median list price is $344,950 and average list price is $405,911. Listings in the $200,000 and below category (38) represent 13 percent of the market. The highest and lowest list prices are respectively $1,550,000 and $119,900.
Local Housing News In A Nutshell
TCAR Government Affairs Director Ron Kopf says the bad news is with low supply and a continuing decrease in housing under $200,000, which is the price point for a lot of the county's workforce housing and entry-level home buyers in the Mother Lode. He adds, "The good news is that the overall economy in the state…and in our area is fairly strong. Interest rates are low — in about the four-and-a-half percent range for fixed mortgages — so it is a good time to buy a house when you look at historical interest rates averages and other things with it." Certainly, as he puts it, home buying locally is a little bit easier — compared to many other state markets because the average sales price is much lower.
As reported here, a Housing Summit to address affordable housing and other related issues will be held on April 30 at Black Oak Casino Resort Hotel. Kopf, who will be attending, shares that a number of the speakers that will be sharing new information and ideas work with legislators on a state and national level. The remaining developable land in Tuolumne County, estimated to be less than two percent of its area, reflects obvious existing constraints, especially since not very much of it has current ready access to water and sewer or is located adjacent to decent roads and core services.
"We continue to see a lot of our legislators talk about needing new housing, but when Senate bills are put in place that are trying to reduce some of the regulation, those become very difficult to pass because a lot of times local areas do not want to lose control of that," Kopf opines. But, he points out, "At the same time the more regulation and time you add to an entitlement process, the more expensive and difficult it becomes."
State Home Sales Rates Continue To Rocket
The California Board of Realtors (CAR) shares that across the state, 428,980 homes sold during the month of March, a 1.3 percent increase year to date and 1.6 percent more year to year. Sales under $500,000 continued to decline due to decreasing inventory.
State housing officials say home prices are going up at a faster rate than last year with a current average sales price of $564,830 up eight percent from last month and nearly nine percent year to year. They also note under 30 percent of the population is able to afford a median price home. While homeownership in California is slightly more than 56 percent the US average is over 64 percent.
Housing markets like the Bay Area are helping fuel the rising rates. As reported here earlier today, a condemned home in the Fremont area sold for over $1.2 million to developers who plan to raze it and build in its footprint.