Whiskerino Dinner Dance At Calaveras Fairgrounds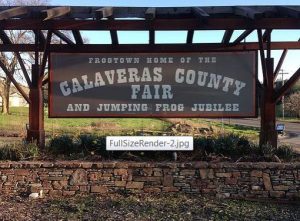 Calaveras County Fair & Jumping Frog Jubilee enterance sign

View Photos
The Friends of the Calaveras County Fair and the Junior Livestock Committee are hosting the Whiskerino Dinner Dance this Saturday at Frogtown, USA.
Laurie Giannini, Calaveras County Fair CEO / Manager, was Wednesday's KVML "Newsmaker of the Day".
The dinner dance will be the official kick-off event leading up to the Calaveras County Fair & Jumping Frog Jubilee May 17-20.
The Whiskerino has a fine historic tradition in Calaveras County. Although the Whiskerino dates back to the 1940s it was revitalized in the 1950's and held for the next forty years. In 1955 Bob Petithome, Angels Camp resident, won the award for best full beard. He says the best part of the event was seeing "all the slick chins" try to grow beards. The event marked the month long Jubilee. Originally held at the Gun Club adjacent to the Fairgrounds, men and women donned their best gold rush attire. However the biggest draw was the actual whisker competitions.
The Whiskerino will be on April 14 at the Calaveras County Fairgrounds in Mark Twain Hall. The event will begin at 6:00 p.m. A limited number of tickets are still available at the Fair office. For more information call 209-736-2561.
In the fall of 2008, a group of Calaveras County residents decided to take action and form a foundation whose sole purpose was to enhance, support and create additional community involvement and participation while maintaining the amazing history the Fair enjoys. The Friends of the Calaveras County Fair, a non-profit organization was formed.​
The grass roots group became an action based organization that completed two major projects in a short period of time. The main entrance to the Fairgrounds (located across from Glory Hole Sports on Highway 49) was often missed because there wasn't any prominent signage. The Friends took action, and through community donations, erected a beautiful 8' x 20"sign. Now guests have a much easier time finding the entrance to the Fairgrounds. Friends also started a community raffle with a grand prize of $10,000.​
Improvements needed to be made to the Cattlemen's Park. At the time, no one would have guessed how that idea would take shape. In 31 days, an old storage building and adjacent storage area was transformed into a beautiful rustic club house with a top quality stage and entertainment area. This facility now dubbed as the Ranch House is not only an asset to the annual Fair; but is also an area that can be rented during the year providing an additional revenue stream for the Fair. Additionally, the Friends have also been responsible for stage and arena upgrades. The Friends can be described as well-oiled machine working together to make the Calaveras County Fair the best it can be.
The "Newsmaker of the Day" is heard every weekday morning at 6:45, 7:45 and 8:45 on AM 1450 and FM 102.7 KVML.