Not Even Close To A Miracle March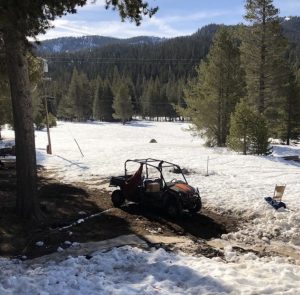 California DWR prepares for April snowpack survey at Phillips Station

View Photos
Sonora, CA — The average snowpack across the Sierra Nevada is 57-percent of average for the date.
While taking the monthly manual snow survey today near Lake Tahoe, Frank Gehrke, Snow Survey Chief with the California Department of Water Resources, stated, "It was a good March, but certainly not a great March, and by no means even close to the March Miracle of 1991 when we uniformly had snow water content increases of 20 plus inches."
Year to date, Gehrke measured 32.1 inches of snow water content at the measurement spot at Phillips Station. That particular location was at 57-percent of average, but electronic sensors indicated the statewide average being closer to 52-percent.
The April snowpack survey is traditionally considered the most significant, because most of the seasonal precipitation has typically arrived by this time. That said, Gehrke notes another storm system is headed for the region late this week.