False Alarm At Fast Food Restaurant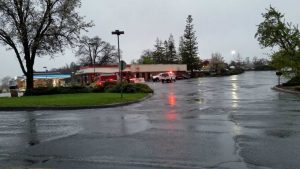 False Alarm at Sonora Burger King

View Photos
Sonora, CA — Many who drove by the Sonora Burger King Restaurant during the seven o'clock hour this morning were curious about the heavy amount of fire trucks on scene.
Officials were dispatched to a report of a fire at the business on Mono Way after smoke was reportedly visible from the outside.  Firefighters responded and it was determined to be a false alarm. The first responders indicated that the smoke could have been coming from an electrical ballast. A majority of the resources were quickly released.
The photo was sent by community news partner Frank Vera. News related pictures can be e-mailed to news@clarkebroadcasting.com.