TUD Completes Water Tank Rehabilitation Project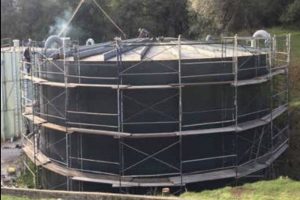 Columbia Clearwell Rehabilitation Project

View Photos
Columbia, CA — TUD reports that construction on a $525,000 water tank rehabilitation project has recently been completed in the Columbia area.
TUD awarded the contract for the "Columbia Clearwell Rehabilitation Project" to West Coast Industrial Coatings Inc. in August of last year after it was identified as a top priority project to be completed this fiscal year. The 500,000 gallon Columbia Clearwell is a component of the area's treatment system and serves Columbia, Gibbs Ranch and Big Hill. With regular maintenance, the rehabilitation project is expected to extend the life of the tank by 30 years.
During the project it was determined that the roof had also endured heavy corrosion and needed to be replaced, so the project was expanded. Other aspects included minor structural modifications, adding appurtenances and removing internal and external coatings.