Sonora High Trustees Pondering Properties, Pool Access To Public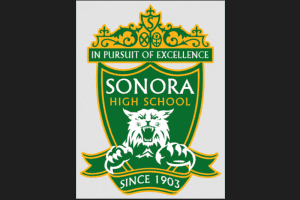 Sonora High School logo

View Photos
Sonora, CA – Sonora high school district officials have slated meeting time Tuesday to discuss three hot topics – the Dome, Wildcat Ranch and the new school pool.
Today, while speaking with Clarke Broadcasting, Sonora Union High School District Superintendent Pat Chabot indicates that the first two subjects are on the agenda for the purposes of keeping them open for discussion as to new possibilities that may arise as well as existing ones that have been aired. The district's historic Dome building and two accessory structures located on its north side have already been declared surplus. The ranch, which contains ag program resources and a cross-country trail, has not. Both are also listed as potential closed session discussion items.
"Right now we have not had any activity on the Dome in terms of people putting in any bids or anything like that for it. Meetings are scheduled in the next two days with the Tuolumne County Arts Alliance," Chabot shares. Too, Tuolumne County CAO Craig Pedro has scheduled time for the supervisors to discuss the Dome property. An appraisal commissioned is shortly expected to be complete for the Wildcat Ranch, perhaps in time for the meeting, he hopes.
In addition, Chabot says the trustees expect to discuss possible ways that the high school's new pool facility might possibly be used during the school year by the community for swim and swim team programs. He adds that to successfully do so, help from the county Rec Department would probably be required since the school is not in the business of providing lifeguards and other personnel to run community service activities. He also points to potential issues with any programs that would hope to run concurrently with the school day schedule since the pool facilities are located in the middle of the campus.
Tomorrow's meeting begins at 6 p.m. in the first floor conference room (100 School St.).