Sonora PD Investigating Collisions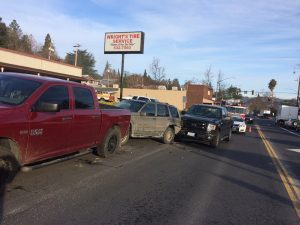 Collisions In Sonora

View Photos
Sonora, CA — The Sonora Police Department is investigating an incident where a driver hit multiple vehicles Wednesday morning.
The first collision happened at around 7:30am on Washington Street near Theall Street. The PD reports a black 2013 Ford F10 pickup struck a northbound Honda Civic, and then a short time later hit two parked vehicles near Sonora Lumber.
The PD located the driver near the second incident, and notes that drugs or alcohol were not believed to be a factor in the incident. Acting Police Chief Turu Vanderwiel says no charges have been filed at this time, so the police department is not currently releasing the individual's name. We'll pass along more information if it becomes available.